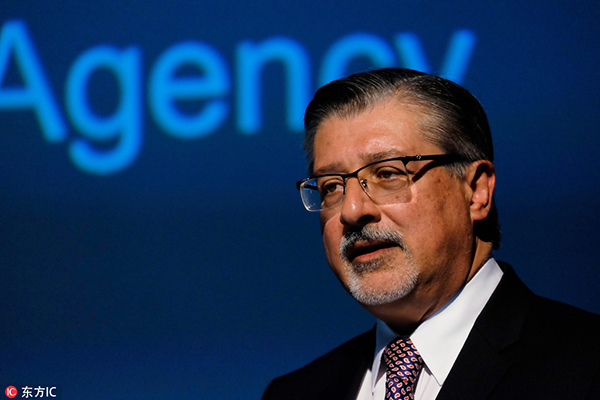 Adnan Amin, director-general of the International Renewable Energy Agency. [Photo/IC]
The cost of renewable energy has fallen dramatically and will continue to do so, while investment has reached record levels and additions to global capacity have set new highs, and according to Adnan Amin, director-general of the International Renewable Energy Agency, the improvements can be attributed to the G20's strong commitment to non-fossil fuels.
G20 energy ministers and officials met in Beijing in June, ahead of the upcoming G20 Summit in Hangzhou, capital of Zhejiang province.
They acknowledged the progress made in scaling up renewable energy, and examined opportunities for even more action, during discussions on the sidelines of the meeting.
"The dramatic and ongoing shift in the global energy sector accelerated in 2015," Amin said.
According to a report published by IRENA, by 2025, average electricity costs for solar photovoltaics could fall by 59 percent, offshore wind power costs could fall by 35 percent, and onshore wind power costs could see a 26 percent reduction, compared with the level last year.
By then, the global average cost of electricity from solar PV and onshore wind power sources will be roughly 5 to 6 US cents per kilowatt-hour.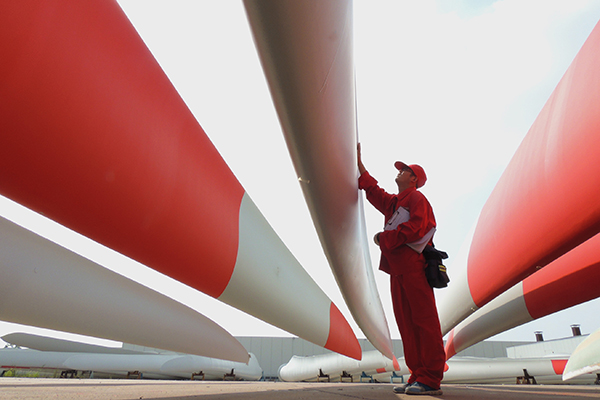 A technician inspects wind turbine blades at a factory in Lianyungang, Jiangsu province, in September last year. [Photo/China Daily]
Electricity prices for concentrated solar power could also fall by as much as 43 percent, depending on the technology used, according to the report, which highlighted the significant cost differences that exist today and signaled strong potential for future cost reductions for G20 members.
"Given that solar and wind are already the cheapest source of new generation capacity in many markets around the world, this further cost reduction will broaden that trend and strengthen the compelling business case for switching from fossil fuels to renewables," Amin said.
Last year, G20 ministers endorsed an 11-point communique, including the adoption of a renewable-energy toolkit, which would provide options for members to increase their deployment of clean energy.
As of this year, 173 countries have set renewable energy targets, up from 43 in 2005.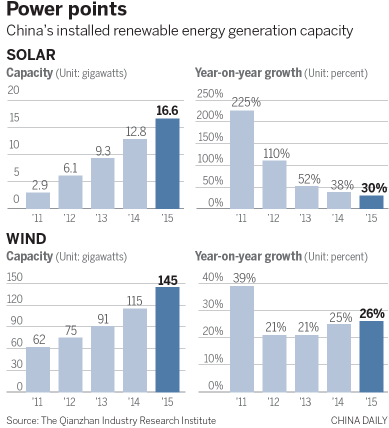 To facilitate the sharing of best practices, IRENA and the International Energy Agency continually update their joint IRENA/IEA Policy and Measures Database, which contains more than 700 policies for G20 members.
The continuing cost reductions have resulted in growing investment in the renewable energy sector. Last year, a record $286 billion was invested in renewable sources, 3 percent higher than the previous record in 2011, according to IRENA.
"But to increase deployment of renewable energy to the levels needed to meet global climate and development goals, this figure must double by 2020 and more than triple by 2030," the report said.
China is playing a vital role in the global renewable markets by leading investment and newly installed generation capacities.
Globally, investment in fossil fuels was less than half the amount invested in renewable energy last year, and it's estimated that by 2040 two-thirds of energy projects valued at $11.4 trillion will be in the renewable sector.
Since 2009, the price of solar PV modules has fallen roughly 80 percent, while the price of wind turbines has declined by 30 to 40 percent, mainly as a result of the expansion of generation capacity.
IRENA said that by 2025 cost reductions for renewable energy will increasingly depend on technological innovation, operating and maintenance costs, and quality project management.