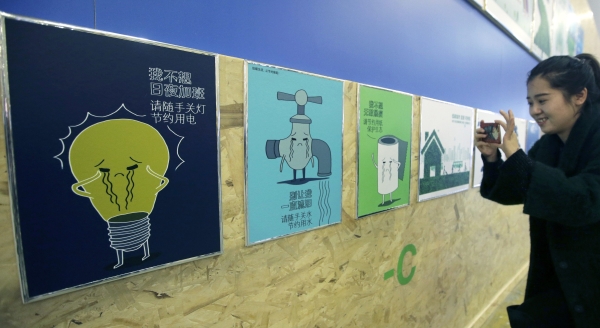 A visitor takes pictures of Chinese ecology awareness posters on display during the opening day of the World Climate Change Conference 2015(COP21) at Le Bourget, near Paris, France on November 30, 2015. [Photo/Agencies]
Beijing aims to try and get consensus on advancing Paris climate deal
China is showing its commitment to the Paris Agreement by ratifying the hard-won agreement on climate change. This means that China, which ratified the agreement on Saturday, becomes one of the first G20 members to complete the domestic ratification process after the United Nations announced a one-year ratification deadline in April this year.
Having been involved in Sino-US environmental cooperation since the 1990s, Daniel Dudek, vice-president of the Environmental Defense Fund based in New York, said China's strategy and actions are encouraging.
"Someone needs to articulate the positive case for globalization. China can and should do this," Dudek said. "China can do this by giving back some of what it has gained through economic cooperation by fostering more environmental cooperation."
"Personally, from where I sit, I see globalization under assault," he said. "The premises of freer trade and of environmental cooperation are being questioned in many countries and regions. Perhaps we have been too blasé in assuming that everyone understands the necessity of cooperation economically and environmentally."
Dudek said China should lead the drive to ratify the Paris Agreement ensure its Belt and Road Initiative focuses on green development so that it creates global business demand for green energy technologies.
"China has already entered into a phase where it can exert global green influence," said Dudek.
China has not stepped back from shouldering this responsibility. When Wang Yi, China's foreign minister, outlined the 10 priorities for the Hangzhou Summit recently, climate change was one of them.
"We will call on all parties to accelerate their ratifying procedures, bring the Paris Agreement into force at an early date and coordinate with all parties to take positive action so as to make contributions to international cooperation in climate change," he said.
Before Wang's announcement, under China's proposal and with the support from all parties, the first G20 statement on climate change was released at the G20 Sherpa meeting in April, 2016.
In the statement, the G20 members promised to sign the Paris Agreement on April 22 or soon thereafter and finish their domestic ratifying procedures as soon as possible.
The Paris Agreement's central aim is to strengthen the global response to the threat of climate change by keeping the global temperature rise this century to below 2 degrees Celcius above pre-industrial levels and to pursue efforts to limit the temperature increase even further to 1.5 C.
It is clear that the G20 members have to take the lead in tackling climate change.
G20 countries account for the majority of the world's carbon pollutants. China and United States alone emit more than 40 percent of the world's total greenhouse gas emissions, which has proven the significance of the cooperation between the world's largest economies.
On Saturday, the United States joined China to formally ratify the Paris agreement to curb climate-warming emissions, which could help put the pact into force before the end of the year.
The deal requires at least 55 nations representing 55 percent of global emissions to become international law.
However, the fact that climate change is even on the agenda for the G20 Summit in Hangzhou represents some sort of progress. A careful reading of the documents of the first two summits in Washington and London in late 2008 and early 2009 show that climate change was hardly mentioned.
At the Pittsburgh summit in September 2009, climate change and energy efficiency were discussed, but that was when the international community was still hoping to achieve a concrete agreement at the United Nations climate talks in Copenhagen in December 2009.
Tracking climate change for years, Dennis Pamlin, founder of Sweden-based consultancy 21st Century Frontiers, said that the first thing to note is that green issues have, so far, not been a top global policy priority for either the G8/G7 or the G20.
"It is economic and security policy issues that have taken center stage and green issues have been dealt with on the side," Pamlin said.
But he said, under the Chinese G20 presidency there have been some impressive developments, especially in the Green Finance Study Group, whose work has focused on how the financial system can be aligned with sustainable development.
"That China prioritized this work indicates a serious understanding of what is required for a transformative low-carbon agenda," said Pamlin.
He also said that increased focus on innovation in areas such as sustainable agriculture has also been impressive and the fact that there is a group dedicated to sustainable agricultural innovation should be acknowledged as a step in the right direction.
"China's most important contribution to a successful G20 outcome is to look beyond the Hangzhou meeting and demonstrate that there is an interest from China to contribute to sustainability initiatives on the global level," said Pamlin.