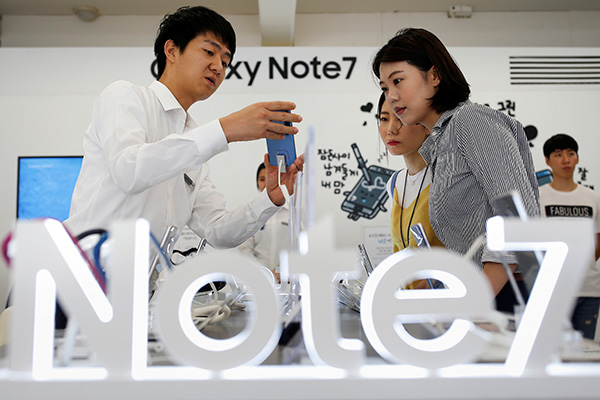 An employee introduces a Samsung Electronics Galaxy Note 7 smartphone at a store in Seoul, South Korea. [Photo/Agencies]
Samsung will issue a global recall of the Galaxy Note 7 smartphone as soon as this weekend after its investigation on explosion claims found batteries were at fault, according to South Korea's Yonhap News.
Samsung Electronics declined to comment on the report on Friday, but said it was conducting the inspection with its partners, it said.
"We will share the findings as soon as possible. Samsung is fully committed to providing the highest quality products to our consumers," the company said in a statement.
Shipments of the Galaxy Note 7 smartphone were delayed in South Korea this week for extra quality control testing. The move came after reports that batteries in some of the jumbo smartphones exploded while they were being charged. Samsung launched the latest version of the Note series just two weeks ago.
Citing an unnamed company official, Yonhap said Samsung's investigation found that faulty batteries caused the phone to catch fire. The number of the Galaxy Note 7 phones with a faulty battery accounts for "less than 0.1 percent" of the products in the market and Samsung is discussing how to resolve the issue with Verizon and its other partners, the official told Yonhap.
The battery issue is a fresh blow to Samsung's smartphone business that has been on a recovery track.
Associated Press