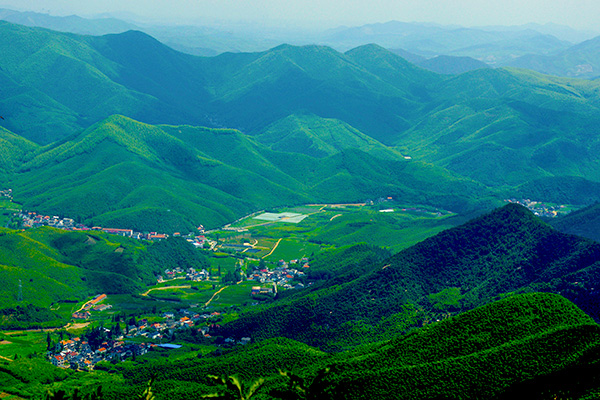 Lush forests, cool temperatures and the beautiful landscape make the Mogan Mountains a popular destination for Chinese vacationers. DUAN CHANGZHENG / FOR CHINA DAILY
Rediscovered about a decade ago, the scenic serenity of the peaks made them the playground of an eclectic elite since ancient times, particularly in the early 1900s. Erik Nilsson reports.
American missionaries. Chinese crime lords. British bankers.
Mao Zedong, Zhou Enlai and Chiang Kai-shek.
A legendary herbologist's daughter, who forged magic swords for a king and then leapt into the kiln to possess the weapons with her soul in the Spring and Autumn Period (770-476 BC).
The Mogan Mountains' scenic serenity has made them the playground of an eclectic elite since ancient times and particularly in the early 1900s.
Picturesque peaks, cool climates and verdant vibrancy have long drawn a curious cast of characters to this terrain. And this ecological and historical legacy has in the last decade generated a resurgence of visitors from around the world.
It's said tea first left China from these mountains when the British transplanted it in what's today Sri Lanka.
The international enclave in Zhejiang province's Deqing county was essentially forgotten by the outside world after New China's 1949 founding.
It crumbled for decades, until after the turn of the century, when a South African working in Shanghai stumbled upon the abandoned hamlet of Sanjiuwu.
Grant Horsfield was seeking a retreat from the heat, pressure and pollution of Shanghai when he chanced upon the thicket of forsaken farmhouses in Mogan. He hunted down the owners and leased the tumbledown buildings to convert them into guesthouses in 2007.
Everyone thought he was crazy. But the business turned out to be insanely successful.
Sanjiuwu was but the first of several properties run by Naked Retreats around the country.
The brand opened the luxurious $31.7 million Naked Stables in another part of Mogan in 2011.
The cheapest rooms-earthen huts with sleek Afro-Asian interior design and lavish amenities like spa showers-cost more than 1,000 yuan ($150) a night. The priciest tree houses perched on the mountaintop peak at more than 13,000 yuan.
Summers are fully booked, and weekends are reserved in advance much of the year.
Twenty minutes of horse riding costs 200 yuan. The priciest package for an hour of off-road Land Rover driving tops out at just under 5,000 yuan per person.
It also hosts a spa, yoga and pottery classes.
Naked Resorts is reincarnating the Sanjiuwu location. It's reinventing the original nine farmhouses and constructing a replica of a celebrated 1920s mansion built like a medieval castle that once stood on the Mogan Mountains. It's slated to open in November.
Horsfield wasn't the first foreigner to return to the area after the exodus-a Briton opened a hotel on an alp a few years before-but it was the South African entrepreneur's project that ignited the interest that detonated an explosion of boutique accommodations.
Dozens of resorts and homestays have since sprung up, typically claiming eco themes and billing themselves as blends of history and modernity.
Indeed, these motifs befit the mountain's essence.
The destination has since ancient times been recognized as ranking among China's top four summer retreats for average annual temperatures of 13 C.
Forests-mostly plumes of more than 60 species of bamboo-bristle across 93 percent of the expanse, painting the prominences assorted shades of green.
This enticed well-heeled foreigners and Chinese-including the drug lord "Big-eared Du" and mob kingpin Zhang Xiaolin, who reportedly fed his mistress to his pet tigers-to build more than 250 opulent summer homes from the late 1800s to the early 20th century. Today, 43 enjoy national protection.
A statue in Reed Pond Park stands as a more recent monument commemorating the ancient pharmacologist, Mo Yuan, from whom the mountains take their namesake, and his daughter, Mo Ye.
Lore holds he spent decades traveling the region to collect and study homeopathic plants, his little girl in tow, after his wife died due to a lack of medicine.
He eventually settled in the area.
Mo Ye later fashioned a pair of enchanted swords with her husband, Gan Jiang, and sacrificed herself to the kiln's flames-and deity-so her spirit would waft into the blade, infusing it with magic powers.
Mogan, by coincidence, roughly translates as "no concerns" or "don't work".
That's incidental. Yet, given the mountains' history and contemporary status as a sanctuary of leisure, it seems fitting.