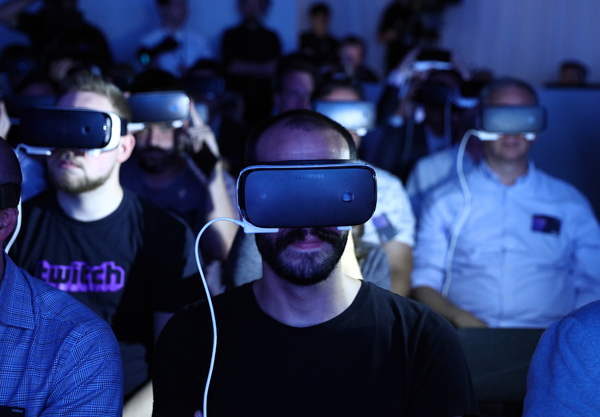 Visitors wear Gear VR 4D Experience headsets with the Galaxy Note 7 smartphone during a Samsung Electronics Co 'Unpacked' launch event in London, UK, on Tuesday, Aug 2, 2016. The South Korean company announced the latest iteration of its large-screen smartphone with the 5.7-inch Note 7 that can be unlocked with an iris-scanning camera. [Photo/VCG]
Rio de Janeiro's Maracana Stadium is huge, with more than 78,000 seats from which lucky fans could watch the 2016 Olympic opening ceremonies on Friday (local time). Samsung Electronics Co is betting the best place to watch is from your couch, with its virtual reality headset to transport you to Brazil.
The South Korean electronics company has partnered with Comcast Corp's NBCUniversal and the Olympic Broadcasting Services to distribute the first VR Olympic broadcast of select events - including the opening and closing ceremonies, diving, basketball, track and field and gymnastics.
VR is seen by many - like Facebook Inc Chief Executive Officer Mark Zuckerberg - as the future of tech. It's expected to change everything from gaming, to sports to communication and how people work. The technology is still in its nascent stages, however, and no one has quite figured out how to make money from it yet.
In some ways, Brazil is the perfect testing ground: the Olympics have historically been a showcase for new technologies - the Los Angeles Games introduced e-mail to a wider audience in 1984 and Seiko Watch Corp debuted its Quartz timing system in Tokyo in 1964, according to the book Olympic Turnaround by Michael Payne.
"It makes sense for Samsung to get as much early experience with the technology as possible so that it can try to take the lead," said Dan Baker, an analyst at Morningstar Inc. "Being ahead on the technology curve allows for better returns and profitability."
But Samsung, which has been a top-level Olympic sponsor since 1998, faces a lot of hurdles.
While the Suwon-based company has exclusive VR rights through NBC to the 2016 Games, only about 80 hours out of the 6,700 hours of programming will be broadcast with the technology. And they'll air a day later. What's more, viewers will need Samsung's Gear VR headset ($100), a Samsung Galaxy smartphone ($850), a cable subscription and the NBC Sports app.
Residents of Brazil, where the games will be broadcast by media conglomerate Globo, will not have access to NBC's VR video. Samsung's push to proselytize VR on the ground in Brazil includes 13 so-called Galaxy Studios - including one on the beach in Copacabana - at which Olympic tourists can try out, and hopefully get hooked on, the tech.
The experience of VR is unlike anything most people have felt before. Your feet on the ground and air conditioning blasting your skin are the only reminders that you're not actually standing on the track as Usain Bolt dashes past, the 360-degree view making it necessary to physically turn your head as he sprints toward the finish line and the crowd cheers.
Samsung has turned to VR technology amid a slowdown in high-end smartphone growth. With competitors like Apple Inc getting into VR and the related augmented reality field, Samsung hopes its high-profile Olympic investment will put it in a sweet spot if consumer attention shifts and VR becomes a major source of growth.