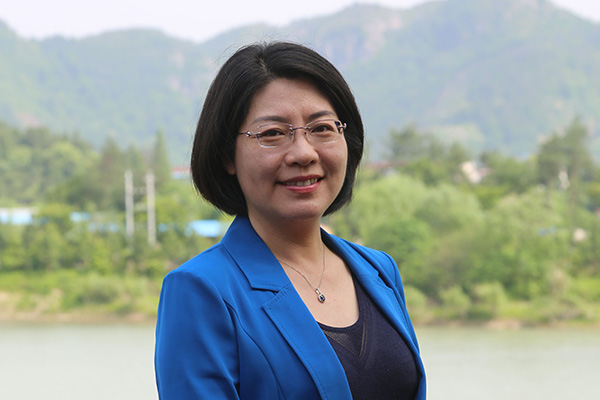 Lin Hong, Party chief of Xianju.
Xianju's mayor of five years, Lin Hong, has propelled the swiftest GDP growth among Taizhou city's nine counties while executing a litany of environmental initiatives in East China's Zhejiang province.
She was named Green China's Person of the Year of 2014-15 in July for these accomplishments.
"Ecological protection doesn't slow development," Lin says.
"It accelerates it."
She believes organic agriculture and ecotourism present opportunities.
"A good environment can entice young migrants to return to work and live," she says.
Many have returned to open guesthouse.
"This solves the problems for left-behind children and the elderly parents."
Lin and her groups have reduced ecological tragedies from pollution to poaching through policies ranging from penalties to guidelines that apply not only to government organs and private companies but also to ordinary citizens' lifestyles.
She also built a 120-kilometer Green Corridor connecting towns along the Yong'an River.
The inspiration came from her experience with Chicago's Lake Michigan coastline when she was studying for her master's in public administration at the Illinois Institute of Technology in 2003.
Lin also developed a Green Convention that outlines environmental-practice guidelines for government bodies and private businesses.
She set up systems to monitor enterprises' pollution in real time, passed China's first county-level hunting ban, and developed a river-monitoring system and a waste-sorting scheme.
She relocated pigs from farmers' homes to centralized areas, where their manure is turned into biofuel and organic fertilizer.
She ordered the demolition of 2,575 vehicles that didn't meet emissions standards from 2014-15.
She also successfully applied to include a 300-square-kilometer swathe of Xianju to be designated among China's first national parks.
Such achievements have led to the county being named an experimental green-development zone.
"I hope Xianju can be an example," Lin says.
"Even if we fail, we can tell others why our approaches didn't work."
Lin became the county's Party chief last month.
She largely credits her attainments to her MPA, for which she studied US models of urban planning, administration and finance.
"It gave me a good foundation for governing a county," she says.
Funding for Lin's studies expired after a year, so she had to finish 13 courses in as many months.
"I got 12 A's and one B," she says, laughing.
She also volunteered in the US, which led her to develop a civic-credit program for individuals and businesses in which points are given or subtracted based on good deeds, such as public service, and bad behaviors, such as tax avoidance.
"I think we have the most volunteer groups in Xianju among Zhejiang's counties," she says.
Lin volunteers for three organizations assisting the elderly and migrants' left-behind children.
She also serves as a certified volunteer tour guide.
"We're short of guides. So we encourage officials to volunteer as guides," she says.
In fact, Xianju's name translates as Fairyland because of the decree of Song Dynasty (960-1279) emperor Zhenzong, after luminary poet Li Bai (701-762) penned prose exalting it as an abode of divine deities.
Xianju is still celebrated as the Home of the Immortals because of its otherworldly beauty-and Lin hopes to capitalize on that branding.
"We can still see the same scenes as Li Bai because they remain pristine," Lin said.
But that doesn't mean there isn't more for travelers to enjoy today than during ancient times.
"Now, we have a different agricultural festival every month," said Lin.
Celebrations of rapeseed and peach blossoms are staged in March.
Peonies are celebrated in April.
Blueberries and gardenia fests run in May, waxberries are celebrated in June and lotuses are honored in August.
Xianju's transportation continues to improve.
Two expressways link it to major cities, the nearest of which is the provincial capital, Hangzhou, three hours away.
It will be 45 minutes from Hangzhou and 1.5 hours from Shanghai after a north-south high-speed rail opens in 2022, connecting the city to the capital and Wenzhou.
The slower Tai-Jin line will connect east and west two years earlier, linking Xianju to Taizhou and Jinhua.
Lin hopes to next year start construction of an airport capable of accommodating planes with fewer than 30 passengers.
"The combination of good ecology and convenient transportation will bring visitors," she says.