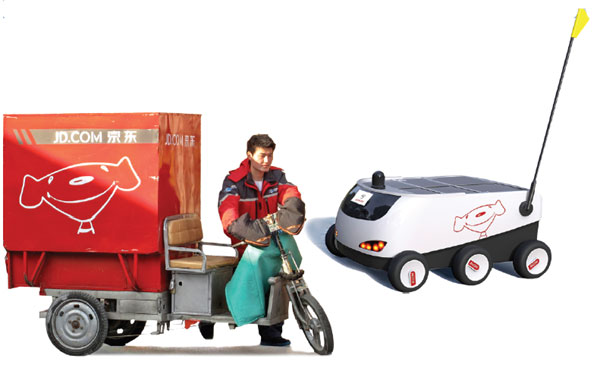 JD.com's traditional delivery vehicle vs the company's first-ever driverless delivery vehicle. Provided to China Daily
Chinese e-commerce platforms are speeding up their investment in the smart logistics field, developing driverless delivery vehicles and robots to promote logistical efficiency.
JD.com Inc announced on Thursday that its first-ever driverless delivery vehicle is under road test and will put into a trial in October.
Equipped with multiple vision sensors and radars, the driverless vehicle can identify and avoid obstacles and traffic jams as well as calculate the shortest route. It could deliver goods to office buildings and convenience stores in city neighborhoods, said JD.com.
The length of the vehicle is 1 meter long, 0.8 meter in wide and 0.6 meter in high, but it has six compartments of different sizes to carry packages.
Xiao Jun, who is in charge of JD's X Lab, a business unit dedicated to adopting cutting-edge technology in logistics and delivery, said: "The driverless delivery vehicle is just 'the tip of an iceberg'."
"The application of driverless vehicles will be confined to temporary deliveries in the initial phase of testing, and the large-scale commercial use is expected to be launched next year."
The company said it has also been testing the driverless technology in freight transportation, to save manpower costs and enhance operational efficiency.
JD.com inked a strategic partnership agreement with Siasun Robot & Automation Co on Friday to develop smart logistical solutions.
In June, it used drones to deliver online purchases to rural shoppers in Jiangsu province, kicking off its trial of unmanned aircraft for "last mile" distribution.
Cainiao, Alibaba Group Holding Ltd's logistics offshoot, also developed a robot that can deliver goods bought by online shoppers. The robot is able to take elevators by itself, avoid barriers, and navigate inside buildings, according to Cainiao.
Lu Zhenwang, chief executive officer of the Shanghai-based Wanqing Consultancy, said "the driverless technology is not mature at present, for instance, some self-driving cars still can't recognize obstacles in roads and neighborhoods." Smart logistics is the future development trend, but it may take three to five years to realize commercial use of driverless delivery vehicles, he added.
Meng Jing contributed to this story.