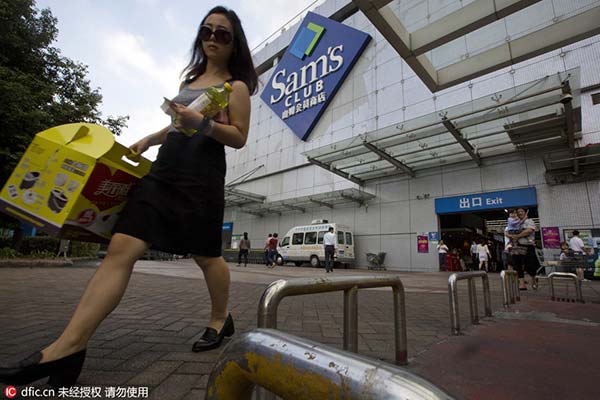 A woman walks out from a Sam's Club in Shenzhen, South China's Guangdong province, Nov 9, 2015. [Photo/IC]
The cooperation between Wal-Mart Stores Inc and JD.com Inc will not affect the American multinational retailer's plan for bricks-and-mortar stores in China, but the flagship internet store of Sam's Club China will be opened on JD in a few months.
In the past three weeks after the alliance between Wal-Mart and JD was reached in June, leaders of the two companies have been meeting on a weekly basis to begin execution of their in-depth strategic cooperation, said Shen Haoyu, CEO of JD Mall, which is the subsidiary that runs JD's online sales platform.
The flagship store of Sam's Club China is a priority for JD. "We are working closely according to our timeline. Taking the JD-based Sam's Club China flagship store for example, it will be launched within a couple of months," said Shen.
Scott Price, president and CEO of Wal-Mart Asia and chief administrative officer of Wal-Mart International, called their cooperation a "marriage".
"There is a huge opportunity for us, the agreement we made entering into this marriage will continue to develop based upon changing customers' needs, opportunities and competition. We see this is a marriage of two similar companies that are equal in strength but in different parts, that come together to form a powerful organization," said Price.
Price also noted that their cooperation with JD will not change Wal-Mart's plan to open 115 stores in China, including Sam's Club stores, in the three years between 2015 and 2017, but they will offer their customers a choice to buy either online or offline in the future. There are 13 Sam's Club stores operating in China.
According to the alliance formed between Wal-Mart and JD, Wal-Mart will receive about 5 percent stake in JD and the companies will partner in strategic areas.
"Wal-Mart's strength in its supplier chain is something JD urgently needs to develop. For the US retail giant, the collaboration with China's second-largest e-commerce platform will raise their competitiveness in the China market," said Li Chengdong, an e-commerce strategy analyst.
The cooperation also led JD to manage the YHD site and the platform while Wal-Mart will continue to manage YHD's self-operated business of the online retailer.
Wal-Mart became a shareholder of Shanghai-based YHD in 2011, and became the full owner in 2015. However, the deal did little to strengthen Wal-Mart's e-commerce ability in the past five years.
"There are quite a few capabilities in technology management and business management at YHD. Our plan is try our best to retain YHD's position and style among its consumers," said Shen.
"With YHD, JD will perform better in competing with Alibaba Group Holding Ltd," said Li.