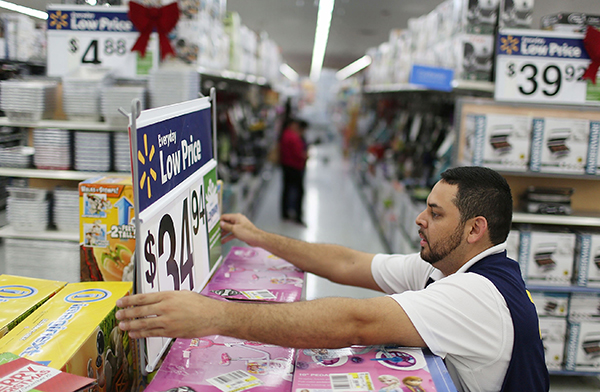 A man fixes a display in the aisle at a Wal-Mart store in Miami, Florida. [Photo provided to China Daily
The new alliance between Wal-Mart Stores Inc and JD.com Inc is expected to give Wal-Mart wider customer access and offer a fresh start to its struggling retail business in China.
Wal-Mart said the alliance expands its opportunity in e-commerce and provides its stores and Sam's Clubs with potential traffic from JD's huge customer base and also will allow it to use JD's same-day delivery network. Wal-Mart will receive about 5 percent stake in JD and the companies will partner in several strategic areas.
Sam's Club China will open a flagship store on JD platform, vastly expanding the availability of Sam's Club's imported products across China. It will offer same- and next-day delivery through JD's nationwide warehousing and delivery network, which covers a population of 600 million consumers.
Doug McMillon, CEO of Wal-Mart, said earlier that the company needs to succeed in China, where it estimates that 25 percent of global retail growth will be in the next five years.
Wal-Mart's net sales globally fell slightly in 2015. According to Jason Yu, general manager of Kantar Worldpanel China, Wal-Mart continues to experience losses in shoppers as it strives to maintain profitability and close stores in areas where they are not competitive.
In 2015, Wal-Mart took full ownership of YHD, its online retail business in China, but this didn't help much strengthen its competitive edge over players in the e-commerce space or achieve the desired synergies, Yu said.
"I don't think it will necessarily give up its own e-commerce offer, which is more based on an O2O (online-to-offline) operational model and a mobile app," he said.
However the partnership with JD will definitely broaden its consumer base beyond its current city-scope and will let the company leapfrog its expansion, though not necessarily under the Wal-Mart banner.
"The vast scale of JD means that its products can go far beyond eastern China, YHD's stronghold, and provide a delivery network that will enable it to satisfy growing middle-class aspirations for high-quality imported products," said Yu.