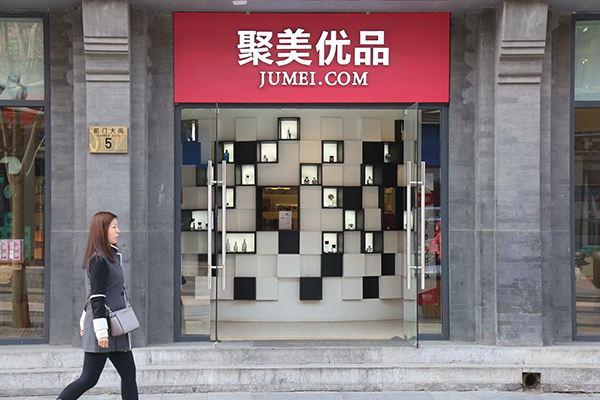 A pedestrian walks past a Jumei International Holding Ltd outlet in Beijing. [Photo/China Daily]
More shareholders in Jumei International Holding Ltd, the Chinese online beauty product retailer, are joining ranks in opposing the company's delisting in the United States, claiming the share buyback is being priced unfairly low.
The growing anger comes after Jumei founder Leo Chen Ou and his partners offered $7 per American depositary share, about a third of its IPO price, to buy back the company.
Jumei is the latest in a string of Chinese companies seeking to leave the Wall Street.
Three institutional investors and a group of retail investors said they are now planning to sue Jumei both in the US and the Cayman Islands where the company is incorporated.
If the delisting plan goes ahead, minority investors are claiming it will not only undermine their interests but also trigger widespread concerns about other overseas-listed Chinese companies taking similar moves to the detriments of small equity owners.
"We have formed a group of more than 260 investors to sue Jumei and our combined shares have already exceeded 5 million shares," said Zhang Xuanji, one of the investors.
"To augment our voice and influence, we are hoping to raise the number to 14 million shares, about 10 percent of the company's stock, by uniting more small investors," he said, adding three institutional investors, including iMeigu Fund in Beijing, a firm specializing in investing in US-traded Chinese companies, have also joined the efforts.
New York-listed Jumei announced on Feb 17 it had received a non-binding offer from its management team to acquire all of Jumei's outstanding 45.6 percent shares for $7 per American depositary share.
The company, which was not immediately available for comments, said earlier the offer represents a premium of 26.6 percent above the average closing price over the previous 10 trading days.
Minority shareholders, however, argue that is 68 percent below its initial public offering price of $22, when it listed in New York in May 2014.