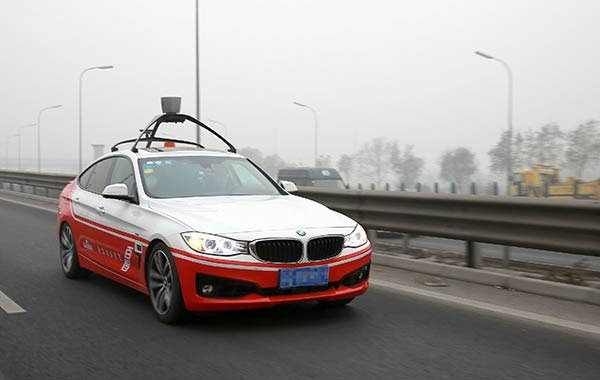 A BMW equipped with highly automated driving technology is put to a road test in Beijing. [Photo provided to China Daily]
For Nevijo Mance, a vice-president of BMW China, buying a car would always be more than just looking for mobility.
A car can also express your value, the group of people you think you belong to. And in the near future, a really good car can even take over your driving task, so to speak, and instead drive itself in certain conditions, said Mance, who oversees the research and development projects at the German premium carmaker.
According to Mance, highly automated driving, or HAD, technology is one of the top priorities in BMW's R&D department. And China, which has fast-expanding urban centers, is where the carmarker sees the most potential for HAD technology.
"I think China will be the dominant market for this technology," he said in a recent interview with China Daily.
Mance, who came to China in September 2014 when BMW formed a partnership with Chinese Internet giant Baidu Inc for HAD tests, said the science fiction-like technology actually makes a great driver as computers don't drink or fall asleep.
"As more cars become highly automated, they can communicate with each other and avoid going to congested areas," he said. "If you look at the fatality rate in traffic accidents in China or the traffic congestion here compared with other markets, the technology can play an important role."
But what is more important to make China a strategic market for BMW is Chinese people's openness to new technology.
"A recent survey showed the Chinese have much higher interest in self-driving vehicles compared with matured economies such as the United Kingdom and the United States," he said.
According to a 2014 survey by Berylls Strategy Advisors, about 88 percent of Chinese respondents said they are likely to buy autonomous driving cars compared with 43 percent in Germany.
So, after having done thousands of kilometers in trial rides in Germany, BMW teamed up with Baidu to begin automated driving tests in China at the end of 2014.
BMW offered research vehicles, equipped with all kinds of sensors and camera systems. For its part, Baidu brought its so-called off-board intelligence, like high-resolution maps, to the table. Baidu's technology would help the BMW vehicles to determine whether they are still safely on track to their destination, without curbs or structures blocking their path or missing crucial turns.
The two companies have successfully competed the first road test in Beijing at the end of last year.