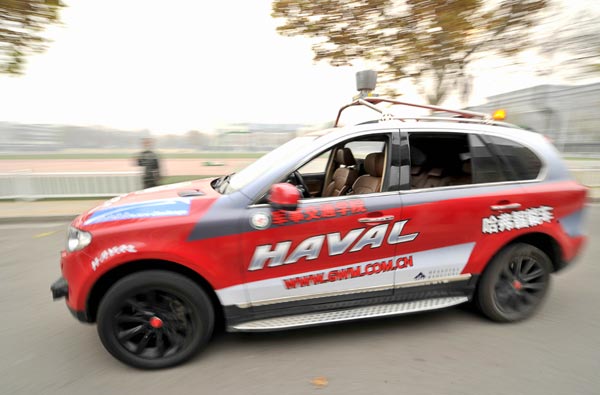 A self-driving car developed by the PLA Transportation Academy is tested. [Photo/Xinhua]
Technology moves from realm of fiction to reality
Don't panic if you see a driver in a moving car with no hands on the wheel because chances are the vehicle is self-driving.
Such scenes, previously only found in fiction, are likely to be reality very soon.
In late March, Volvo showcased self-driving technology in Beijing and wowed those who tried it.
"It's really amazing," said Su Lichuan, an auto reporter for China Business Times, when he saw a Swedish driver uncapping a bottle of water with both hands while the car he was in, a Volvo V60, raced along the capital's sixth-ring road guiding itself.
Su said he has been interested in the field of autonomous driving but he did not expect that the technology was so well developed.
Volvo tested its self-driving vehicles on public roads in Sweden as early as December 2013. The automaker, now owned by China's Geely Group, vowed to deliver 100 self-driving cars to its customers in 2017 as part of efforts to reduce traffic-related casualties.
Volvo is not alone in the field of autonomous driving, with many other automakers also busy testing similar programs.
Mercedes-Benz unveiled a self-driving truck in September 2014. The first of its kind worldwide, it was tested at up to 80 km/h on German expressways that same year.
The automaker launched a completely self-driving car called the F 015 Luxury in Motion at the 2015 Consumer Electronics Show in Las Vegas, the United States.
BMW has conducted tests on about 100 km of expressways in Germany since 2011. "We can already free drivers' hands, feet and eyes," Nevijo Mance, a senior researcher at BMW China Services, told news portal Jiemian.com.
He said BMW would realize complete autonomous driving so people don't have to focus on driving at all.
Other marques, including Infiniti, Ford, Hyundai, Toyota and Nissan, are experimenting with autonomous driving technology and many say they will unveil self-driving cars by around 2020.
Auto supplier Delphi said its car had just finished a 3,400-mile journey in the US, 99 percent of which was traveled in self-driving mode.
China's search giant Baidu confirmed it too is developing driverless cars and will produce them in cooperation with other manufacturers.