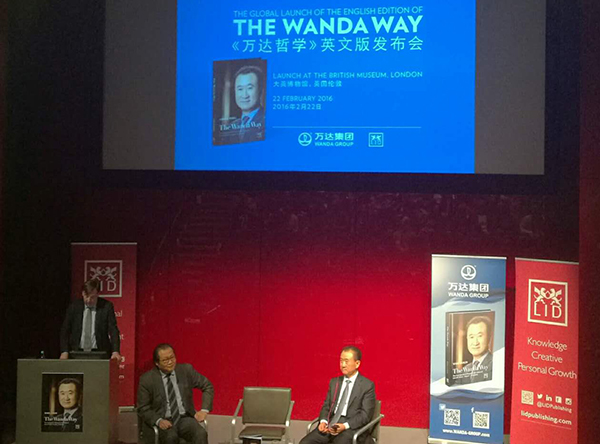 Wang Jianlin (right), chairman of Dalian Wanda Group Co, attends a ceremony to introduce the English version of his book in Mandarin-The Wanda Way-at the British Museum in London. The book has been well-received in China and has been reprinted 15 times. [Photo/China Daily]
Last week in London, Wang Jianlin, billionaire chairman of Dalian Wanda Group Co, launched The Wanda Way, the English version of his book in Mandarin that has been already reprinted 15 times and sold 1 million copies.
What gives? Wang wants the world to read his book and understand Chinese business philosophy. Like Wang, it is crucial for China, including corporate China, to embrace English fully-and stop using it incorrectly. Value-added Chinese human resources are going to be as important as the upgrading of the manufacturing sector.
Why English? Well, no other language matches its global reach. Reliance on translation apps can take you only so far. According to a reviewer of a new English-language autobiography of an Indian "nationalist" media tycoon, "English gives... respect...clout, a visiting card in the corridors of power..."
It is a no-brainer actually. Yet, some may argue that if China could emerge as the world's second-largest economy over the past three decades and even host the Olympics without really mastering English at the grass-roots level, why bother now? That is a specious argument.
Things are changing. China's political, financial, trade and cultural links with the rest of the world are deepening. Chinese corporate tentacles are spreading globally through mergers, acquisitions, overseas expansions, international projects and listings on foreign bourses.
China continues to actively seek foreign investment. It now leads to new multilateral financial institutions. In addition, China has eased permanent residency rules to attract more foreign talent, especially students and professionals. Foreign universities are seeking to set up campuses in China.
There will a tremendous need for Chinese professionals, executives, academics and government officials who can communicate in other languages, particularly English. Wang implied as much in London. "It is vital for Dalian Wanda to hire bilingual staff as part of its globalization plan," he said.
President Xi Jinping, during his Feb 19 visits to major media organizations in Beijing, said: "China should enhance its international communication capacity, strengthen its voice in the world arena and tell China's story well."
English skills are key to accomplishing that.
In the next five years, China's middle class will likely grow by 100 million as lower-income people from rural areas get urbanized. The coming automation wave, and factors like expected layoffs by firms ridden with overcapacity and rising labor costs, and by zombie companies, will push low-skilled millions to seek alternative employment.