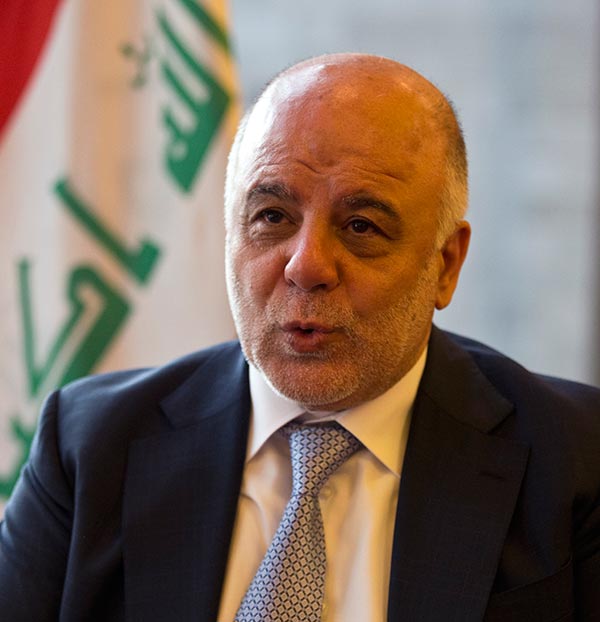 Haider al-Abadi, Iraqi prime minister.

Visiting prime minister seeks expertise to help with infrastructure expansion in war-torn nation
Iraq is eyeing "a huge expansion" of its railway network and Baghdad is contacting leading Chinese companies to carry out the task, visiting Iraqi Prime Minister Haider al-Abadi told China Daily on Wednesday.
In an interview on the second day of his first visit to China since taking office in September last year, al-Abadi also voiced confidence over increasing crude oil exports to China, as Iraq is "hoping to double oil exports in the coming years".
He stressed the key role of railways in Iraq and plans to expand the network to about 5,000 kilometers from the current 2,000 km.
Iraq, after the upheaval of recent years, is in dire need of infrastructure as it beefs up economic growth.
Al-Abadi confirmed that Chinese companies "are very interested" in expanding the railway network. Earlier on Wednesday, he attended a meeting of business leaders representing up to 60 Chinese companies involved in sectors including telecommunications, infrastructure and insurance.
"They bring me their technology. ... I think they can expand the network in Iraq," he said, adding that the expanded network "can act both for the people and for goods".
Iraq was an important hub on the ancient trans-Eurasia Silk Road, and Baghdad has welcomed China's Belt and Road Initiative.
"Iraq can act as a bridge between Asia and Europe," al-Abadi said, and "we have the network for the Silk Road" once the railway expansion is completed.
The prime minister, who was on a two-day visit, met with President Xi Jinping and Premier Li Keqiang on Tuesday.
A joint statement released on Tuesday said the two governments agreed to upgrade ties to a strategic partnership, and China-a major importer of Iraqi oil-stated its vision to help Iraq expand production.
China imported more than 28 million metric tons of crude oil from Iraq last year.
As Iraq aims to double exports in coming years, al-Abadi said China is keen to see its share of Iraqi oil increase.
"It will work for us because we want to sell our oil, after all. And it will work for us because China can provide guarantees ... for infrastructure, other areas and investment," he added.
Trade between China and Iraq increased 50-fold between 2003 and last year, according to the prime minister, and he is keen for more Chinese firms to invest in Iraq.
"We want to expand it much more than this. We own the oil-we want other sectors, especially investment," he said.
As the Iraqi government budget relies 93 percent on oil exports, he said the country wants to diversify its economy by bringing in investment, and therefore the government "wants to simplify the bureaucracy and the red tape in dealing with the investors".
He also tried to reassure potential investors that there is no direct terrorist threat against Chinese agencies or their staff members stationed in Iraq, stressing that the Chinese stationed in Iraq "have been safe".
"I think there is not really a danger or threat. ... Especially as I think the Chinese are very much welcomed," he said.