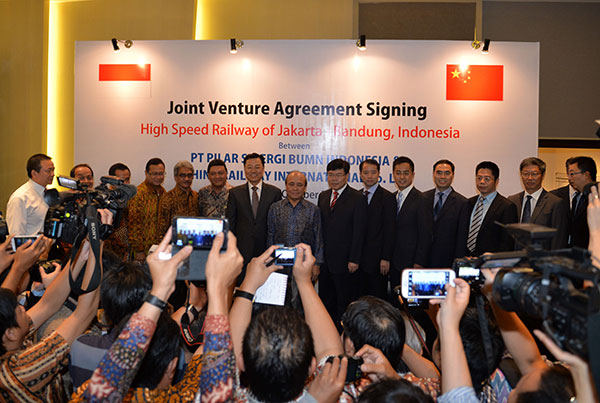 Indonesian and Chinese officials pose for photographs at the joint venture agreement-signing ceremony for the high-speed railway line between Jakarta and Bandung in Jakarta on Friday. [Photo/Xinhua]
CRIC and local consortium to build, operate Jakarta-Bandung high-speed railway line
China has staved off stiff competition from Japan to win rights for the Jakarta-Bandung high-speed rail project in Indonesia, the National Development and Reform Commission said on Friday.
China Railway International Co Ltd and a consortium of Indonesian state-owned companies will build the $5.5-billion railway line from Jakarta to Bandung, and plan to compete for other projects in the region.
The consortium of Indonesian companies includes construction company PT Wijaya Karya, railway operator PT Kereta Api Indonesia, toll-road builder PT Jasa Marga, and plantation company PT Perkebunan Nusantara VIII.
The 150-kilometer rail line will use world-class standards and technology and is expected to start operations in early 2019. It will cut the journey time between the two cities to less than 40 minutes, and travel at speeds ranging from 250 kilometers per hour to 300 km per hour.
Indonesian companies will own 60 percent of the shares in the venture with the Chinese companies holding the rest.
Xie Feng, China's ambassador to Indonesia, said the joint venture will try its best to source most products locally, including raw materials, equipment and facilities and also hire local talent for management and technical positions.
"Chinese companies will help improve the capability of high-speed rail assembly and production in Indonesia," he said during the signing ceremony on Friday.
For the next five years, Indonesia needs about $400 billion to develop its infrastructure, the ambassador said, but only $20 billion was actually given from the fiscal expenditure every year.
As a result, the project which links Jakarta, the capital of Indonesia, and Bandung, the second-largest city in Indonesia, will be funded by China Development Bank, and will be free from Indonesian state budget and debt guarantees.
He estimated that the project can turn profitable in six years after construction is complete.
The Indonesian government has made a rational choice based not only on economic and business consideration, but also on diplomatic, social, and political aspects, said Telisa Falianty, a scholar on planning and public policy at the University of Indonesia.
"China is a rising star in the Asian infrastructure sector," she said, pointing to the nation's financial capabilities and in initiating institutions like the Asian Infrastructure Investment Bank.
The Indonesian government announced the decision to accept the Chinese proposal after dropping both bidders for high financial costs earlier.
The bid win comes at a critical time as China and Japan are also competing in what could be a long drawn-out battle for India's three proposed high-speed rail links - New Delhi-Mumbai, Mumbai-Chennai and New Delhi-Kolkata.
Experts said the move will further boost the Chinese confidence in winning overseas railway projects.
A Chinese consortium led by Third Railway Survey and Design Institute Group Corporation was chosen to conduct the feasibility study on New Delhi-Mumbai rail project, a big step forward to the development of Indian's lucrative rail market.
China has rich experience at home with the construction of 17,000 km of high-speed network and it hopes to leverage its domestic expertise to export its technology around the world.
"When China built the Beijing-Shanghai high-speed rail line, no one believed that it could complete it in two-and-a-half years, but we did it," Xie said. "This is our advantage and this is the speed that China's high-speed rail can offer."