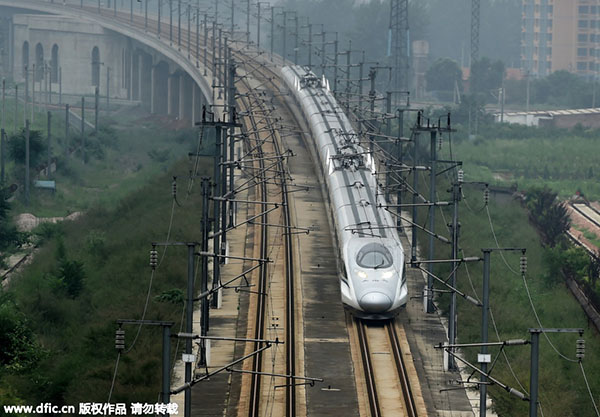 A train pulls into a station in Luoyang city, Henan province, June 30, 2015. [Photo/IC]
Several new railways will be constructed during the 13th Five-Year Plan period (2016-2020), the 21st Century Business Herald reported on Tuesday.
These rail projects include lines from Yinchuan to Lanzhou, Baotou to Xi'an, Chongqing and Guiyang, Datong to Taiyuan and Zhanjiang, and Xiamen to Changsha and Chongqing.
Six (or eight) vertical and transversal high-speed railways will be built during the 13th Five-Year Plan period, the paper reported citing a railway industry insider.
Earlier, the government proposed to build four vertical and transversal lines over the medium and long period.
Currently, the proposal is still under review and discussion, and the formal plan may be unveiled in June, the Herald reported.
High-speed railway has been listed as one of the key infrastructure projects over the next five years in central and western regions, according to the 13th Five-Year plans released by local governments.
Northwest China's Shaanxi province will speed up the construction of high-speed railway, Xi'an subway and Weihe Plain intercity railway networks. Southwest China's Chongqing municipality will also add 1,000 km new rail lines and complete its current railway network, the paper said.
It means that several railways including lines from Chongqing to Xiamen, Chongqing to Kunming, Chongqing to Xi'an, and Xi'an to Baotou will start construction over next five years.
Furthermore, Wang Junzheng, the secretary of Xiangyang Municipal Committee, central China's Hubei province, also confirmed that the Xiangyang-Guilin high-speed rail line has been listed into the national 13th Five-year Plan, and will start construction over the next five years.
The National Development and Reform Commission on Nov 23 approved an 80.51 billion yuan ($12.60 billion) high-speed rail project, according to a statement posted on its website. The 618 kilometer rail link will run between Yinchuan in Ningxia Hui autonomous region to Xi'an in Shaanxi province.