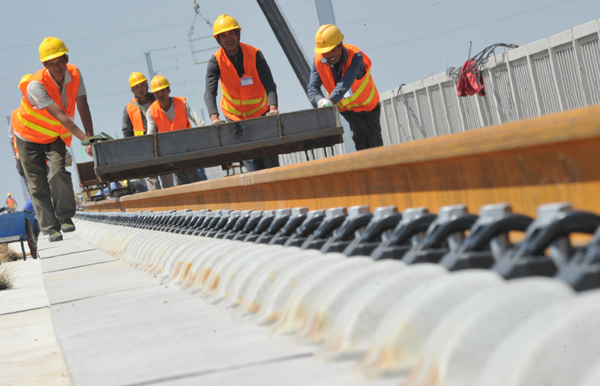 China Railway Erju Co Ltd's workers construct a railway project in Yuncheng, Shanxi province. [Photo/Xinhua]
BEIJING - China's top economic planner has approved the construction of four new railways stretching 2,000 km in total, with a total investment of 253.3 billion yuan ($39.6 billion).
A new intercity railway will link four cities in Ningxia Hui autonomous region with a total investment of 8.1 billion yuan, and the second and third lines will connect cities in Anhui and Sichuan provinces, respectively, according to a post on the National Development and Reform Commission's (NDRC) website on Tuesday.
The fourth line, in Fujian province, features the biggest investment -- 107.1 billion yuan.
Construction is expected to be completed within next five years.
Local governments and the China Railway Corporation will provide the majority of the funding, and the rest will come from commercial and policy banks, the NDRC said.