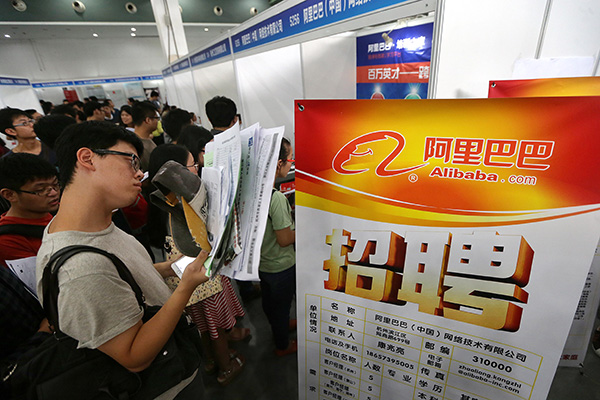 New graduates visit a booth of Alibaba Group Holding Ltd at a job fair in Hangzhou, Zhejiang province. The e-commerce conglomerate plans to expand its customer base through globalization. [Photo/China Daily]
Alibaba Group Holding Ltd has vowed to become a truly globalized company, serving 2 billion people within the next 10 to 20 years.
Zhang Yong, chief executive officer of the Chinese e-commerce conglomerate, said on Tuesday that New York-listed Alibaba has nearly 1 billion customers in China, but to double that to 2 billion worldwide, "globalization will be its core strategy for the next decade".
Zhang was hosting a press event in the company's headquarters in Hangzhou, Zhejiang province, to highlight its plans for the upcoming "Nov 11" shopping festival-China's biggest annual online sales event.
The e-commerce firm achieved a record 57.1 billion yuan ($9 billion) in sales during last year's 24-hour online buying spree on Nov 11.
Zhang, who spoke entirely in English during the briefing to demonstrate Alibaba's determination to globalize, said this year's Nov 11 will be the first truly "global shopping festival".
Alibaba has more than 5,000 overseas brands from 25 countries and regions across the world joining this year's festival in an effort to meet the growing Chinese demand for high-quality imported products.
The same number of Chinese vendors, meanwhile, will sell their products to 64 countries and regions, including the United Kingdom, France and Russia, to boost sales.
"We will for the first time make Beijing the commander and war room of the upcoming Nov 11 festival, because as the capital city of China, we think Beijing will be a good start for us to begin our journey of globalization," said Zhang.
But Alibaba's ambition does not stop there, said Michael Evans, the company's president who is in charge of its international strategy. "Alibaba is already the gateway for Chinese people to buy from the world and for foreign customers to buy from China.
"But in future we want to enable people around the world to buy from anywhere."
To build a solid foundation for international growth, he said the company will expand its presence in Europe, Asia and Americas and open offices in France and Germany in the coming month.
As the Chinese economy continues to grow at a slower pace, as does Alibaba's own domestic e-commerce income, analysts said the launch of a more global strategy was quite right to maintain momentum.
Lu Zhenwang, an independent analyst with Shanghai Wangqing Consultancy, said Alibaba's performance has not been good this year, and 2016 could be a challenge too, as the economy slows.
"What's more, the number of Chinese online shoppers may have already peaked, so it makes sense for Alibaba to expand its customer base through globalization," he said.
Jack Ma, executive chairman of Alibaba, said at the event that people worry a bit too much about China's economy.
"China's middle class is expected to double in the next seven years, which will be the new engine for the economy," he said.