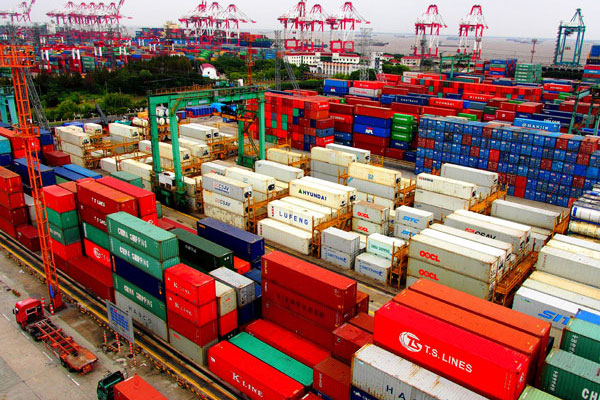 Containers pile up at Waigaoqiao Port in the Shanghai Free Trade Zone. [Photo/Xinhua]
Trade prospects in China are set to remain favorable during the fourth quarter after exports fell less than expected in September, the General Administration of Customs said on Tuesday.
Though imports continued to decline, economists said that the figures do not pose any threat of a hard landing for the economy.
Exports shrank by 1.8 percent to 10.24 trillion yuan ($1.62 trillion) during the first three quarters of 2015, and fell by 1.1 percent to 1.3 trillion yuan in September, according to the administration.
The monthly decline in exports has been narrowing steadily, said Huang Songping, the administration spokesman. The 1.1 percent fall in September is commendable when compared with the 6.1 percent fall in August and the 9.5 percent decline in July.
Figures from the administration showed that the total foreign trade volume during the first three quarters declined by 6.2 percent, 8.1 percent and 9.2 percent, respectively. Export volumes experienced growth of 4.8 percent in the first quarter, but fell 3 percent and 5.6 percent respectively in the subsequent two quarters.
Total foreign trade volume was 17.87 trillion yuan during the first three quarters, a 7.9 percent year-on-year decline.
Huang said the administration remains confident that exports during the fourth quarter will overtake the figures for the third quarter as the structural reforms and steps by the government to boost foreign trade yield results.
"In the absence of any major economic or political risks, we remain confident and positive on prospects for exports in the fourth quarter," he said.
Ren Baiming, a researcher with the Chinese Academy of International Trade and Economic Cooperation under the Ministry of Commerce, said exports also gained from the yuan depreciation in August.
Yang Shan, general manager of the Shenzhen-based Skymen Cleaning Equipment Co, said exports gained from the weaker yuan in September. "A growing number of clients in traditional markets like Europe and Australia are now opting for yuan-based trade settlements," he said.
Fu Yumei, the founder of Meet Knits, a knitting company in Shanghai, said: "Though the yuan depreciation will not bring back the clients we lost earlier, it will at least persuade existing clients to buy more goods from us," he said.
Xu Dianjun, chairman of Shanghai Eden Home Furniture Co Ltd, which used to export furniture to Japan and some European countries, shared Fu's view.
"Weak demand has crimped our exports in the past two years. We rarely received orders from new clients and our exports are mainly to old clients, albeit at much smaller quantities than before," said Xu, adding China has lost its price edge to countries like Vietnam and the Philippines.
According to the administration, exports from key trading provinces and municipalities such as Guangdong outperformed the nation.
During the first three quarters of this year, although foreign trade in Guangdong, Jiangsu, Shanghai, Zhejiang and Fujian decreased by 2 percent to 4.3 percent, the numbers are still smaller than the nation's 7.9 percent, it said.
Tough times ahead for importers
Imports plunged 17.7 percent year-on-year to 924 billion yuan ($145.21 billion) in September, posting an 11th straight decline.
"The fourth quarter is expected to be stronger than the third as a better policy environment will help facilitate the steady growth in foreign trade," Huang Songping, the General Administration of Customs spokesman, said on Tuesday.
China's imports dropped by 15.1 percent to 7.63 trillion yuan during the first three quarters of 2015 compared with the numbers a year back, according to the administration.
The steep fall in imports reflects China's slower economic growth as well as the plunge in global commodity prices, said experts.
The sluggish global economic recovery and weaker domestic demand due to the slowing economy contributed to the slide in imports, said Tu Xinquan, a professor at the University of International Business and Economics in Beijing.
Imports of some bulk commodities exhibited growth in volumes, but saw steep falls in prices, said the administration.
"During the first three quarters of this year, China's imports of some bulk commodities kept climbing," said Huang.
Crude imports soared to 249 million metric tons, an increase of 8.8 percent. Imports of refined oil and soy beans reached 23.19 million tons and 59.65 million tons, up 4.7 percent and 13.1 percent, respectively.