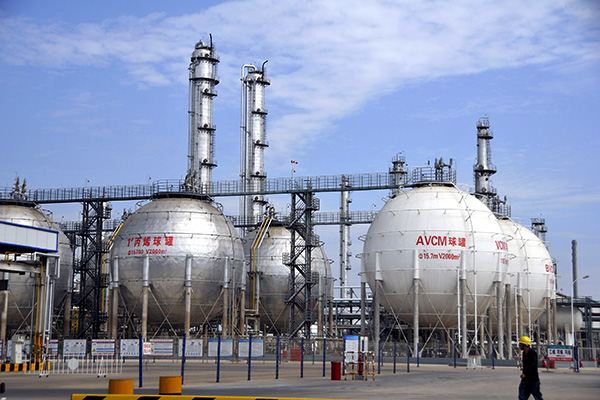 A chemical plant in Tancheng, Shandong province. The chemical industry in China is worth $1.4 billion or about 6.8 percent of the country's total manufacturing sector. [Photo/China Daily] 
By its very nature and composition, perhaps no other industry is as hazardous and unpredictable as the chemicals industry.
There is no knowing when disaster might strike. Size and location hardly matter. In the Indian city of Bhopal in 1984, for instance, poisonous gas leaked by the multinational chemical major Union Carbide killed and maimed thousands of people. In its aftermath, many developed countries either mothballed or shifted their chemical factories.
Maybe for reasons of such looming fear, the global chemicals industry is such that it has never managed to punch above its weight.
China is no exception. Here the industry has often been in the limelight for all the wrong reasons, the latest being the explosion of a chemical warehouse in Tianjin on Aug 12. Though the incident left a scar, there is no getting away from the fact that the chemical industry is the third largest sector in China, after textiles and machinery, accounting for about 10 percent of the country's GDP in 2013. It also caters to 40 percent of the global chemicals demand.
Such impressive credentials should have put the industry on a high pedestal. However, instead, it has found itself bogged down by endless regulations, safety issues and often being given the short shrift in the quest for clean energy and intelligent manufacturing.
So much so the industry is currently facing over-capacity and companies are finding it difficult to sustain growth, despite demand remaining more or less steady.
I recently ran into an old friend Andreuw Gunawan, the Shanghai-based manager for Solidance Asia-Pacific, a marketing strategy consulting firm which focuses on the clean technology, industrial application, healthcare and technology sectors.
He recently authored a white paper on the chemical industry in China, and told me that a sea change in recent times has been the switch by many large companies, especially local chemical firms, to more value-added products, rather than bulk products, to gain better profitability.
"The chemical industry in China is worth $1.4 billion or about 6.8 percent of the country's total manufacturing sector. It certainly can't be ignored, considering the Chinese government is actively encouraging the development of new chemical products like high-performance engineering plastics in the 12th Five-Year Plan," he said.
His study said the government's focus on boosting self-sufficiency in chemical materials has helped several Chinese chemical firms gain regulatory and subsidy support and move away from bulk manufacturing. But they have been unable to step up the value chain in terms of technicality and product quality.