The public has paid great homage to the firefighters, 53 of whom had been confirmed dead in the Aug 12 blasts as of Wednesday. But another group of heroes has also drawn increasing attention - the chemical defense team from the PLA Beijing Military Area Command.
Wearing fully protective clothing and gas masks, members of the special force must approach unknown substances while other troops and professionals stand back and await more explicit information on the substances.
Sixty-two hours after the blast, team members found survivor Han Fengqun between containers. He is now in stable condition and is already eating.
Since Sunday, I, as a photojournalist, have had the chance to enter the blast site with the team several times and witness their efforts at the source of the explosion.
Hundreds of cars are nothing but shells, containers are scattered everywhere, smoke continues to rise, and the grass has turned yellow - if not black.
I believe what unfolded in front of me was like a war-torn terrain.
This is not a regular battle. In battles, armies usually know who the enemy is, but the soldiers by my side were still trying their best to figure out what they were dealing with.
At 7 am on Wednesday, I joined them again as they searched for dangerous chemicals. However, the mission only lasted about half an hour before it started raining again and smoke arose.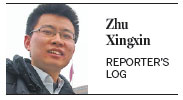 We were immediately asked to move to more than 100 meters away from the site since the chance of an explosion substantially increases if the chemicals mix with water.
Right after we started leaving, we heard two blasts behind us.
To be honest, I was scared. But Li Wang, one of the soldiers, said they had gotten used to it, and he played down the danger of the job.
"Our job is not that mysterious. We are just specially trained soldiers dealing with chemicals," Li said.
However, wearing their fully enclosed outfit for even 10 minutes is unbearable for most people - the temperature inside them can top 50 C in the summer. This is not even to mention the unexpected and complicated situations they constantly have to face.
By Wednesday, plenty of the substances left in the containers were still unidentified and no schedule of the work had been given. So for now, the battle continues.