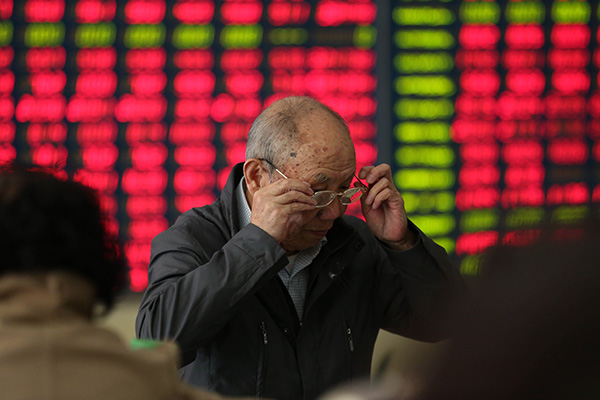 An investor looks at an electronic trading screen at a brokerage in Nantong, Jiangsu province. [Photo/China Daily]
Analysts have welcomed the clampdown, pointing out that the A-share index has been plagued by insider trading, financial fraud and manipulation
China's securities watchdog last month launched an unprecedented crackdown on insider trading, market manipulation and illegal margin financing.
This was triggered after the Shanghai Composite Index dropped by more than 30 percent from a seven-year high of 5,178.19 points in early June. More than $4.5 trillion has been wiped off the value of shares since then.
In a bid to restore confidence, the China Securities Regulatory Commission has fined at least eight securities firms as well as fund managers, tech businesses and major shareholders of listed companies for market irregularities.
"The action has signaled the regulator's intention to restore market order and fair play, and to protect investors' interest," Xu Hongcai, director of economic research department of the China International Economic Exchange Center in Beijing, said.
Last month, the CSR Chanded out fines worth at least 2.37 billion yuan ($376 million), according to media estimates. That was five times more than for the whole of 2014.
"This should not be a short-lived effort but a sustained and regular approach by the regulators," Xu said.
Naturally, the highest-profile case has involved the investigation of China's largest securities firm, CITIC Securities Co, for alleged insider trading.
The brokerage has been accused of using advance knowledge of the government's market rescue plan to increase its trading advantage, media reports have claimed, citing sources close to the case.
In a statement to the stock exchange, CITIC Securities confirmed the government's investigation into several senior executives.
"(We are) actively cooperating with the investigators (and we have initiated self-checks on our) innovative business," CITIC said.
Another case which has made a splash in the media involved Qingdao Hengxin Asset Management Co Ltd.
The Shandong-based fund management firm was fined a record 737 million yuan by the regulator for distorting stock prices and increasing market volatility.