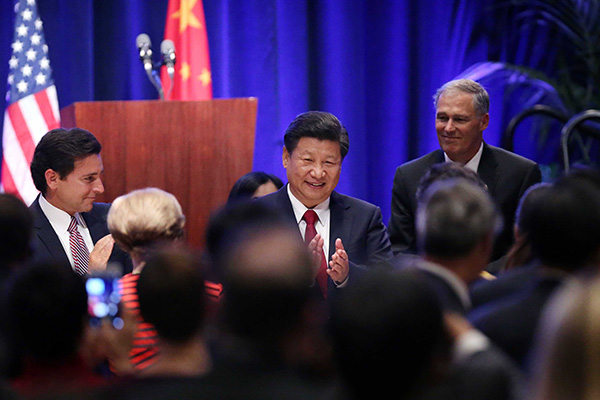 President Xi Jinping attends a welcoming dinner in Seattle on Tuesday hosted by the Washington state government and groups friendly to China. [Photo/Xinhua]
President tells US audience China will not lower renminbi exchange rate to boost exports
President Xi Jinping shared his views with US local officials and businessmen on Tuesday on issues including China's stock market and the anti-corruption campaign.
The president, who started a four-day state visit to the United States earlier in the day, was speaking at a welcoming dinner in Seattle hosted by the Washington state government and groups friendly to China.
Seattle is the first stop on the four-day state visit, which will also take Xi to Washington DC.
Referring to the stock market, which saw heavy turbulence in the summer, forcing the government to intervene, Xi said, "China's stock market has reached a phase of self-recovery and self-adjustment."
Xi also said the modest adjustment in August to the renminbi's reference rate against the US dollar "achieved initial success in correcting the exchange rate deviation".
"Given the economic and financial situation at home and abroad, there is no basis for continuous depreciation of the renminbi," he said.
"We are against competitive depreciation or a currency war. We will not lower the renminbi exchange rate to boost exports."
Xi said China would remain committed to steady economic growth, reform, opening-up, rule of law, anti-corruption efforts and peaceful development.
He said the Chinese government would introduce strong and pragmatic reform plans in areas including the market, taxation, financing, investment, pricing and people's livelihoods.
Xi also told an audience that included chief executives from some of the largest US businesses, such as Boeing, Amazon, DuPont, IBM and Microsoft, that China would treat US investors fairly, including better protecting intellectual property rights and combating commercial cybertheft.
He promised that Beijing would not restrict-but protect-the activities of overseas NGOs in China according to the law "as long as the activities of these organizations benefit the Chinese people" and abide by local laws.
He also asked for close cooperation from the US on sending back Chinese corruption suspects, to deny them safe havens overseas.
On Sino-US relations, he called for the world's two largest economies to read each other's strategic intentions correctly and to manage their differences properly and effectively.