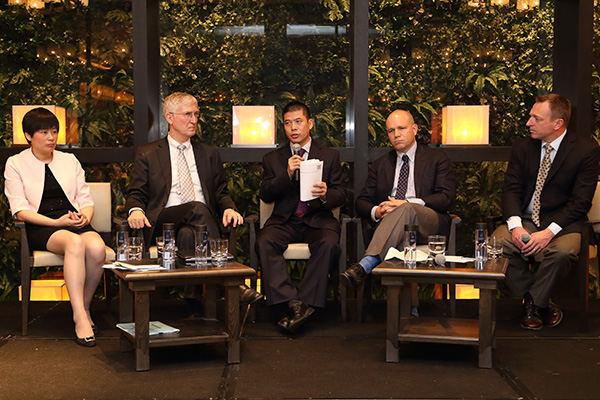 AmCham China members discuss the White Paper during its launch in Beijing on April 21. From left to right: Gloria Xu, general manager of Government Affairs for Greater China, Dow Chemical; Tim Stratford, managing partner, Covington and Burling; Liu Fei, chief representative, ASTM; Scott Palmer, partner, Sheppard Mullin Richter & Hampton, LLP; Mark Duval, president, AmCham China. [Photo provided to China Daily]
Service sector can be well served by a high-quality bilateral investment treaty
As Chinese President Xi Jinping visits the US, the members of the American Chamber of Commerce in China will be hoping that the bilateral investment treaty will be high on the agenda.
This is because a high-quality treaty would unlock the potential of services-in the financial sector, healthcare, education, logistics-and bring immense benefits to Chinese people and the companies they work for.
We need look no further than manufacturing to see the potential.
For many years during the past 10 years, foreign-invested companies produced more than half of China's exports, bringing much-needed capital, designs and know-how to a sector that catapulted the country to middle-income status.
But now extra added-value is increasingly difficult to obtain. Since the start of the decade, manufacturing output growth has halved to below 7 percent and more than one in five AmCham China members involved in the resources and industrial sectors have moved or are planning to move capacity outside of China due to rising costs.
Some actions have been taken to boost the service sector.
At its third Plenary Session in 2013, the 18th Central Committee of the Communist Party of China discussed some major issues concerning comprehensively deepening reform, and decided that market should play a bigger role in the economy and set the stage for reform.
Since then free-trade zones have been introduced and the State Council published opinions promoting an increase in the quantity and quality of foreign investment in the service sector.
New regulations on bankcard clearing seem set to end the domestic monopoly in this area, and Beijing is working on a pilot program to develop several important service industries.
On the face of it, the service sector seems to be doing well.
In the first half of 2015, China's service sector grew 8.4 percent, outpacing overall economic growth.
However, it still accounts for just 49.5 percent of GDP, whereas, in the United States, for example, it accounts for 80 percent.
Services jobs-including those in the financial, insurance, education, engineering, legal, media and entertainment, telecommunications, retail, real estate, travel, healthcare, information and computer technology sectors-also account for more than 80 percent of US private-sector employment.