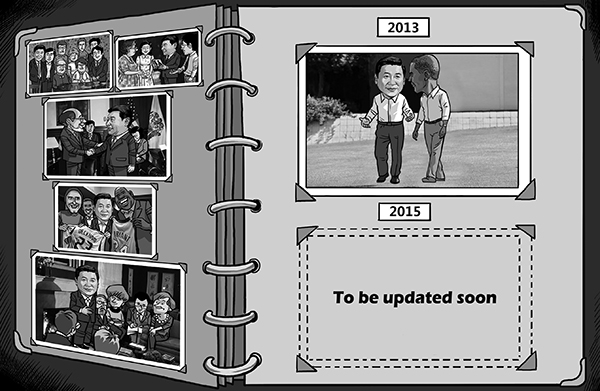 As President Xi Jinping begins his weeklong state visit to the United States on Tuesday, many are wondering about the possible outcomes of the visit, which depend on the interactions between the two sides.
Former US Secretary of State Henry Kissinger, for one, suggested before Xi's visit that US President Barack Obama "talk honestly to the Chinese, to tell them what their concerns are, to learn Chinese concerns".
Given the increasingly delicate international situation and China-US relationship, how the two countries should control and manage their differences to deepen bilateral cooperation is expected to top the agenda of the Xi-Obama summit.
In Europe, the Ukrainian crisis has pushed the US and Russia to the brink of a new Cold War. The influx of refugees to Europe from the war-torn Middle East and the ongoing debt crisis in Greece are haunting the European Union. Besides, the expansion of the Islamic State in Syria and Iraq poses a grave threat to regional and even global stability.
In East Asia, China and Japan are yet to resolve their territorial dispute and other issues left over by history, and tensions escalated after the Japanese parliament passed new security bills a few days ago.
The US, as the world's sole superpower, has a slew of thorny domestic issues to deal with. Partisan clashes and social unrest, especially tensions between different ethnic groups, have dealt a blow to the country's global leadership. And the recent turbulence in the global stock and financial markets indicates that the world economy has not fully recovered from the 2008 global financial crisis, which swept across most emerging and advanced markets.
Admittedly, China and the US have managed to maintain extensive cooperation on various bilateral, regional and international issues thanks to frequent high-level dialogues, which included the 7th US-China Strategic and Economic Dialogue in June. But like some traditional major powers and emerging ones in the past, they face the "Thucydides trap" (in which the differences between an existing power and a rising one leads to war), which they have to avoid.