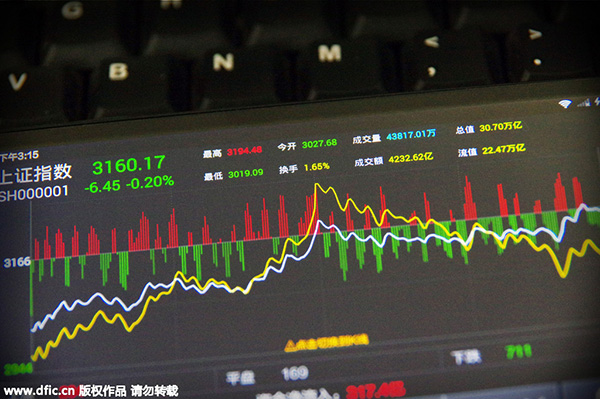 A stock indicator shows the benchmark Shanghai Composite Index on Sept 2, 2015. [Photo/IC] 
BEIJING - After a roller coaster rush since July 2014, China's stock market has stabilized and risks have been released to some extent, the securities regulator said Sunday.
In response to queries from Xinhua, the China Securities Regulatory Commission (CSRC) said market transactions are currently normal for the most part, with liquidity being relatively abundant and innate stability being improved.
The benchmark Shanghai Composite Index surged about 154 percent from July 2014 to as high as 5,178 points on June 12, 2015, but plunged more than 38 percent by Wednesday.
"Gains on the stock market had been too rapid and large, forming stock market bubbles, therefore subsequent plunges and adjustments were inevitable," the CSRC told Xinhua.
Panic selling came along with the freefall and high-leverage stock financing accelerated the plunge after fueling the previous surge, resulting in looming liquidity risks and even systemic financial risks, the regulator said.
However, it said, efforts from the government to soothe the market helped stem potential systemic risks.
"At present, market risks and bubbles have been released to some extent," the CSRC said.
Market stabilizes
China's stock market has gradually stabilized, as shown by more reasonable stock prices, lower leverage and abundant market liquidity, the regulator said.
By Wednesday, the price-to-earnings ratio for the benchmark Shanghai Composite Index dropped from 25 in mid-June to 15.6. The ratio for the smaller Shenzhen Component Index was down from 70.1 to 37.3, and from 134.5 to 63.6 for the ChiNext Index, China's NASDAQ-style board of growth enterprises, the CSRC said.
Risks associated with high-leverage stock financing have been released, as some illegal financing activities were cleared and stock financing from brokerages dropped to a normal level, the CSRC said.