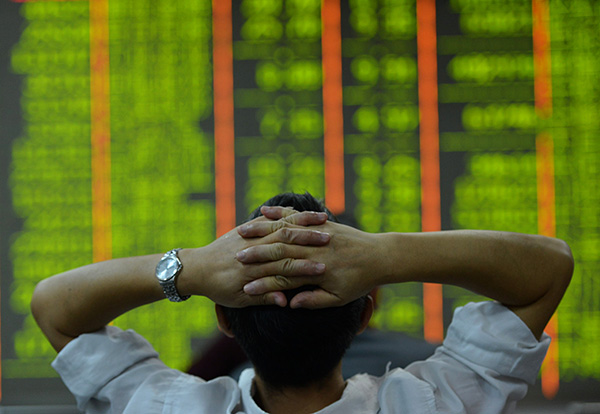 An investor watches an electronic board showing stock information at a brokerage office in Hangzhou city, Zhejiang province, Aug 24, 2015.[Asianewsphoto by Long Wei]
BEIJING - China's securities regulator on Wednesday fined three companies for illegal business activities amid the recent chaos in the country's stock market.
An investigation found that Shanghai-based Mecrt Corporation, Hangzhou-based Hundsun Technologies Inc and Hithink Flush Information Network Co Ltd developed an operating system that allowed securities investors to trade without opening accounts via real-name registration, violating the Securities Act, said the China Securities Regulatory Commission.
With economists believing activity like this exacerbated the market rout, the regulator decided to confiscate the companies' illegal earnings and impose additional penalties.
A total of 132.85 million yuan ($20.88 million) will be confiscated from Hundsun and it will be fined a further 398.56 million yuan. The regulator also issued a formal warning to company chairman Liu Shufeng and General Manager Guan Xiaolan and fined each of them 300,000 yuan.
In the case of Mecrt, 15.99 million yuan will be confiscated and it faces a fine of 47.96 million yuan. Chairman Liu Zhaobo and General Manager Xie Chenggang also received a warning and a separate fine of 200,000 yuan.
A total of 2.18 million yuan will confiscated from Hithink Flush and it will be fined 6.53 million yuan. Zhu Zhifeng, the company's deputy general manager and Guo Hongbo, the product manager, will be fined 100,000 yuan and 50,000 yuan.