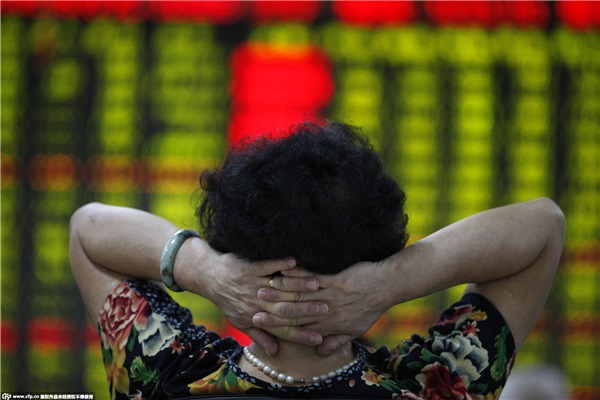 An investor at a brokerage house in Huaibei, East China's Zhejiang province. [Photo/IC]
China's securities watchdog said on Sunday evening that it is drafting a plan to implement the circuit-breaker mechanism in the country's stock market in a move to guard against extreme market volatility.
The regulator's statement came after China's A-share market has suffered a dramatic fall of 38 percent since its peak in mid-June.
The plunge has erased $5 trillion in market value, triggering widespread fears that China's stock market rout could cause ripple effect to global markets.
The circuit-breaker mechanism refers to the measure adopted by stock exchanges to temporarily halt trading to avert panic selling after the stock index has fallen a certain percentage.
In a written response to the Xinhua News Agency, the China Securities Regulatory Commission said that it will strictly control automated program trading, curb excess speculative trading of the stock index futures and better regulate the margin financing business that allows investors to borrow money to trade stocks.
"When the market experiences sharp and abnormal market volatility, the government will not sit aside and let it happen," the CSRC said in the statement.
China Securities Finance Co, the State-owned margin lender, will continue to stabilize the market through various forms when sharp market volatilities are likely to trigger systemic risks, the regulator added.
The regulator said that the risks in the A-share market have been discharged as the valuations of the benchmark Shanghai Composite Index has dropped from 25 times to 15.6 times. In addition, the valuation of the Shenzhen-based start-up board ChiNext also has declined from 134.5 times to 63.6 times.
The outstanding value of margin financing also has decreased from the previous peak level of 2.27 trillion yuan ($370 billion) to about 1 trillion yuan, indicating that the overall level of the risky leveraged trading has shrunk, according to the regulator.
"Trading remains normal and liquidity is relatively ample. The market stability has improved," the CSRC said.
Governor of People's Bank of China Zhou Xiaochuan on Saturday sought to reassure global investors at the meeting of central bank governors and finance ministers from the Group of 20 held in Turkey. Zhou said that correction in China's stock market is almost over.
On Sunday, the CSRC reiterated that it will continue to push for market-driven reforms of the country's stock market and to actively facilitate the launch of the registration-based system for new share sales.
It also said it will continue to crack down on illegal market trading and rumor mongering that seriously disrupt market orders.
China's stock market is set to open on Monday after a four-day closure for the national holiday of the 70th anniversary of victory in World War II.