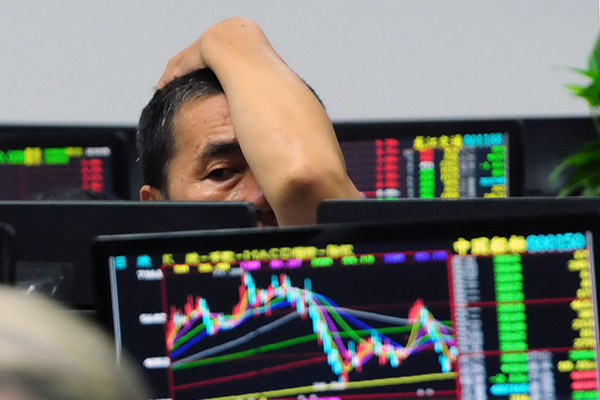 An investor checks stock prices at a brokerage in Jiujiang, Jiangxi province. Further crackdowns against market violation and manipulation are seen as being essential for restoring investor confidence. [Photo/China Daily]
Caijing journalist Wang Xiaolu charged with spreading false market information
The authorities have detained four executives from China's largest brokerage, CITIC Securities Co, a staff member of the China Securities Regulatory Commission, and a journalist from business magazine Caijing, in the latest moves to crack down on stock market violations.
The CITIC executives, who have confessed to their violations, were named as Xu Gang, Liu Wei, Fang Qingli and Chen Rongjie. They have been placed under "criminal compulsory measures" for suspected insider trading, reported Xinhua.
Liu Shufan, the official with CSRC, has also been held over suspicious insider dealings, taking bribes and forging official seals, the news agency said.
Liu too has confessed to taking advantage of his position to secure approvals from the securities authorities for trading in a public company, helping the growth of CITIC's shares, as well as accepting bribes worth several million yuan.
Xinhua said Liu admitted to using insider information from CITIC and another company, and obtaining millions of yuan in illegal gains. Liu confessed, too, that he had forged official seals to fake a court ruling on the divorce and taxation certificates of his mistress.
Wang Xiaolu, the Caijing journalist, is being charged with colluding with others to fabricate and spread fake information on securities and future market.
In a program televised on Monday morning, Wang confessed that he wrote fake reports on the Chinese stock market based on hearsay and his own guesses, without conducting verification, and admitted that the false information "caused panic and disorder on the stock market, seriously undermining market confidence and inflicting huge losses on the country and investors".
CSRC spokesman Zhang Xiaojun told a press conference on Friday that the authorities had launched 22 cases involving suspected market manipulation, insider trading, false information fabrication and dissemination.
Among those, seven involved suspected insider trading by several professionals working in the securities market.
A recent research report by Shenyin & Wanguo Securities Co said only strengthened measures against insider trading and other violations by the authorities would boost market confidence in the long run.
Pan Yingli, a professor at the Antai College of Economics and Management of Shanghai Jiao Tong University, said that further crackdowns against market violation and manipulation were essential to develop the capital market, restore investor confidence, and create a more transparent and fairer market.