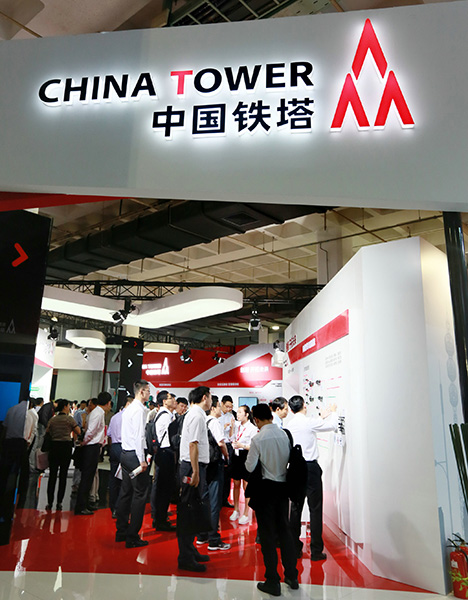 A China Tower Corp stand at an international exhibition in Beijing. China Mobile Ltd will own 38 percent of the newly established company while China Telecom and China Unicom will each have about 28 percent. [Photo/China Daily]
China Mobile Ltd rose the most in more than three weeks after the nation's wireless carriers reorganized the industry by merging $36 billion of network assets.
The world's biggest carrier by subscribers jumped 2.7 percent to HK$93.70 ($12.08) in Hong Kong, the biggest gain since Sept 22. Smaller rivals China Telecom Corp fell 0.5 percent and China Unicom (Hong Kong) Ltd slipped 2.8 percent. The three operators will share control of a new company holding assets including thousands of base stations.
The restructuring is part of a broader road map for reviving underperforming State-owned enterprises. President Xi Jinping's administration has pushed to overhaul a bloated $16 trillion government sector as the world's second-largest economy heads for its slowest growth in a quarter-century. The carriers have come under pressure as customers increasingly switch to mobile messaging tools such as Tencent Holdings Ltd's WeChat service.
"The completion of the long-awaited tower asset injection should help to level the competitive ground for the smaller operators," Cynthia Meng, an analyst at Jefferies Group LLC, wrote in a note on Thursday. "However, due to the magnitude of the scale, we believe China Mobile will remain the dominant telecom market leader by far."
China Mobile will own 38 percent of China Tower Corp while China Telecom and China Unicom will each have about 28 percent.
The nation's carriers announced plans last year to create China Tower by pooling assets and reducing duplication as the country rolls out faster networks.
Competition among the three wireless operators in China, the world's largest telecommunications market, has increasingly focused on wireless data services and 4G licensing. China Telecom and China Unicom both started offering fourth-generation network services in February, ending a monopoly held by China Mobile since the beginning of last year.
Beijing-based China Reform Holdings Corp will own about 6 percent of China Tower, it said in a statement announcing the deal on its website. The statement did not specify the amount of the deal, yet the Xinhua News Agency said the assets were valued at 231.4 billion yuan.
China Reform's investment would help China Tower pay for building a network of electric-car charging stations, people familiar with the matter said this month. The government wants to boost availability of the facilities to spur adoption of the vehicles, and it assigned State-owned China Tower to build out the network because it will have a nationwide footprint with its telecommunications assets, the people said.
"This seems to be a fairly logical, sensible reform step," Tony Hann, head of equities at Blackfriars Asset Management Ltd in London, said by phone on Wednesday. "Having a tower company will force them to share their assets."