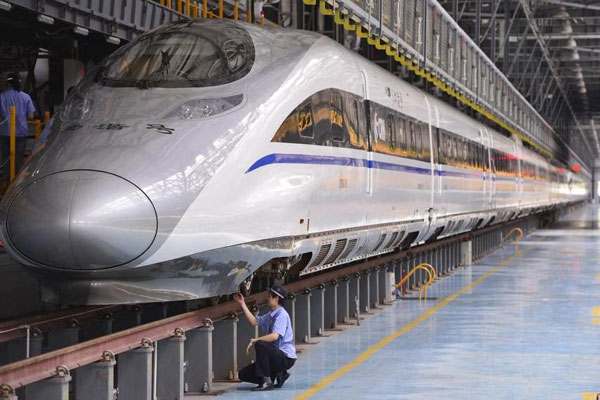 A technician examines the bullet train CRH 380A in Nanchang, capital of East China's Jiangxi province, May 15, 2014. [Photo/Xinhua]
BEIJING - The China Railway Corporation (CRC) on Wednesday announced a new national train operation plan with more bullet trains, boosting the capacity of the country's trunk lines and cargo service.
The adjusted operation plan, effective as of July 1 this year, will raise the number of Chinese passenger trains in service to 4,894, of which 2,660 are CRH bullet trains.
With 121 trains added to the operation plan, the trunk high-speed railways linking the cities of Beijing, Shanghai, Guangzhou, Shenzhen, Hangzhou,
Harbin
, Shijiazhuang and Taiyuan will have greater capacity to move passengers from one city to another, the CRC said.
Apart from offering more high-speed bullet trains, the CRC will have other passenger trains run at faster speeds with better service, including some ordinary trains equipped with air conditioning.
The train service operator will operate 118 freight trains across the country, including three trains running at a speed of 120 kmph between China and Europe.
To meet the demand of booming e-commerce business in China, the CRC will also open six one-stop direct cargo trains between Beijing, Shanghai, Guangzhou and Shenzhen to move goods more quickly.
China had a combined railway network of over 100,000 km in total length by the end of last year, including more than 10,000 km in high-speed tracks, and plans to increase the total railway mileage to 120,000 km by 2020.