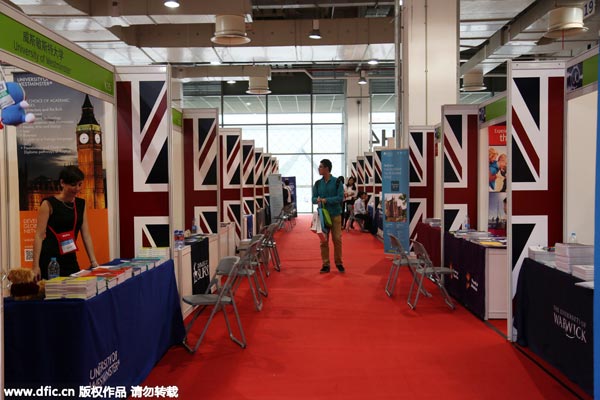 View of the exhibition area for UK during the 2014 China International Education Exhibition in Shanghai, China, Nov 1, 2014.
The Welsh city of Bangor, between the shores of the Menai Straits and the mountains of Snowdonia, is renowned for its ancient buildings and picture-postcard scenery. Eight thousand kilometers to the east, amid the gleaming towers and concrete ring roads of Beijing, Luna Wu is keen to put Bangor on the map for another reason.
"With the growth of higher education in China, Bangor University made a strategic decision to work with reputable Chinese institutions to raise Bangor University's profile in China, attract high-caliber Chinese students, develop joint research projects and ease the way for Bangor students to study in China," she said.
Wu, Bangor University's chief representative in Beijing, is not alone in wanting to establish links with the country. Hundreds of higher education institutions in the UK are tapping into the world's largest source of internationally mobile students, and their efforts are paying off.
In January, the Higher Education Statistics Authority in the UK said more first-year students from China enrolled at British universities than those from all European Union countries combined. The authority said 58,810 Chinese undergraduates started studying in Britain last year, compared with 57,190 students from the rest of Europe.
The number of Chinese students in the UK has not gone unnoticed. In February, the UK Higher Education Funding Council published a report that underlines how highly reliant universities are on Chinese postgraduates. One medium to long-term challenge, it said, is that China wants to be an international education hub and that growth rates in the number of international students in the country are increasing.
Growing domestic capacity and continued investment in education systems may create an attractive and economically viable proposition for some students in East Asia seeking overseas education, it says.
"China presents further challenges through a fast decline in its youthful population. Our analysis of the United Nations Population Division data shows that China's 20-year-old population is expected to decline by 40 percent in the period from 2015 to 2020, compared with the period from 2005 to 2010."
"It's not really a warning," said Janet Ilieva, who wrote the report and is the council's head of economic and qualitative research. "There was a dip in international students last year for the first time in 29 years and the student numbers from India and Pakistan almost halved. The numbers from China continued on their growth trajectory; it was very much business as usual. But all of a sudden their proportion became much higher compared to other countries, significantly higher."
China has a visible presence in major study destinations around the world. In 2013, 274,439 Chinese students enrolled in higher education programs in the United States, 92,248 in Australia and 70,805 in the UK.