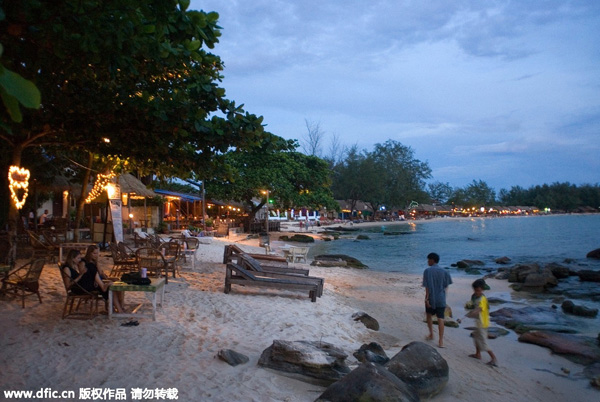 Sihanoukville beach. At dusk becomes the meeting place to savor a good beer, Jan 22, 2015. [Photo/IC]
PHNOM PENH - Cambodia Bayon Airlines (CBA), a wholly-owned subsidiary of the Aviation Industry Corporation of China, announced Sunday that it has extended wing to coastal Sihanoukville after successfully operated regular flights between capital Phnom Penh and cultural Siem Reap province since late December.
"CBA completed its first flight to Sihanoukville on April 12, 2015. The flight departed Phnom Penh at 8:10 am, made a brief layover in Siem Reap, and arrived at Sihanoukville at 11:00 am," the airlines said in a news statement.
"This flight marks the start of the CBA summer schedule, which has daily flights between Phnom Penh, Siem Reap, and Sihanoukville as well as direct flights from Phnom Penh to Sihanoukville over the weekends," the statement said.
"As Sihanoukville continues to grow and the tourism and business market in Cambodia develops, Bayon Airlines anticipates demand for travel within Cambodia will grow as well," it said.
The airlines signed to purchase 20 MA60 turboprop-powered aircraft from Xi'an Aircraft Industry Company last August and announced that within 5 years, it will use the 20 MA60 aircraft and 10 A320 trunk liners to cover domestic routes in Cambodia and to connect Cambodia to other Southeast Asian countries and other Asian countries.