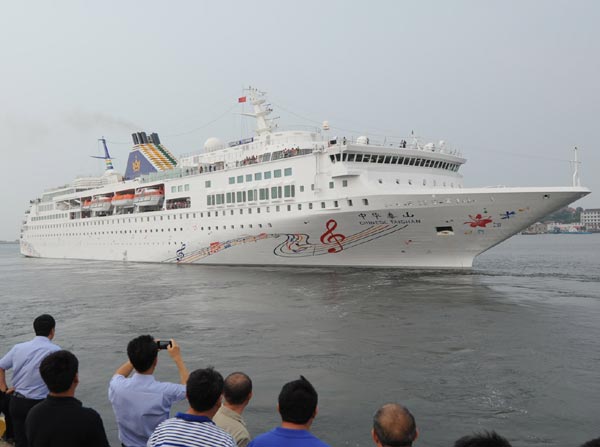 The Chinese Taishan cruise ship departs for Inchon, South Korea, from Yantai, Shandong province. Taking a cruise has become increasingly popular among Chinese vacationers. [Photo/China Daily]
With the rise of the Chinese middle class, the nation's cruise market will continue to grow, and is expected to become the Asia's largest market by 2020, industry sources said.
Data recently released by the Cruise Lines International Association showed the Asian cruise industry is experiencing double-digit growth in cruise ships, passengers and ports, with China playing a significant role in this region.
Cruise lines hosted nearly 1.4 million Asian vacationers in 2014, a 34 percent compound annual growth rate since 2012. And from 2012 to 2014, the number of Chinese passengers grew 79 percent per year. In 2014, the number of Chinese passengers reached nearly 700,000, almost as many passengers as all other Asian markets combined, according to CLIA.
More than 40 percent of Chinese cruise passengers were aged under 40.
Asia will see a "record-breaking year" in 2015 with more travelers cruising the region than ever before, said Adam M. Goldstein, global chairman of CLIA.
He said that an increasing number of cruises with experiences tailored to Asian travelers are being offered by the global cruise industry.
Taking a cruise has become increasingly popular among Chinese people. Industry insiders said that compared with passengers in Europe and the United States, Chinese passengers are younger and prefer to take cruises with their families.
A cruise tourism survey by the country's popular travel website Qunar.com said more than half of those polled would spend 4,000 yuan ($645) to 6,000 yuan on cruises. Meanwhile, Shanghai has become the city with the most people buying cruises in the country, followed by Beijing, Hangzhou and Tianjin.
Seeing the great potential in the China's cruise market, international cruise companies have stepped up their presence in the region with a series of moves, such as increasing the number of cruise ships, adding more routes and improving the frequency of sailings.
Michael Thamm, chief executive officer of the Costa Group, said it will work to occupy the leading position in the cruise market in China "with a wide variety of innovations and strong growth".