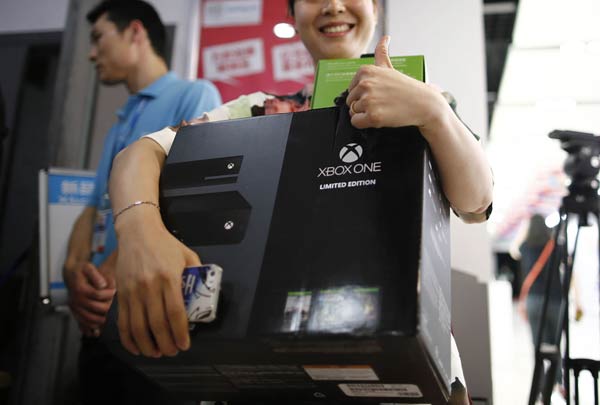 A woman holds her newly purchased Chinese-version of Xbox One at the Shanghai Pilot Free Trade Zone.[Provided to China Daily]
Producers of gaming consoles are clearly looking far beyond providing just games, as they include sport and education-related functions in their offerings.
Xbox has started working with New Oriental, a leading privately owned education group in China, on preschool educational products. Three applications developed by New Oriental were launched on Xbox consoles in late 2014.
Children aged between 2 and 8 will be able to learn English while using these applications. Instead of the traditional methods of learning which might be a little bit boring for children, the new apps, which look like games, will be able to help children pick up new words and knowledge while playing.
"We have brought to China the first console which combines games and entertainment. It not only provides the essence of game devices but also a brand new way of entertainment, which can be especially tailored to the user," said Xie Enwei, general manager of Microsoft's China region.
"In order to implant the preschool educational products into the Xbox One console, New Oriental has set up a new team to give more support. Even though we made a lot of efforts, we were still faced with many challenges. Gaining a better understanding of Xbox One is one major challenge," said Chen Wanqing, director of the preschool educational project under New Oriental.
"In modern families, parents want to reduce the time that help their children with learning. Now we have to plan games and their contents catering to Chinese families. The purpose is to provide knowledge to the children," she said.
Zhang Wei, 34, a housewife in Shanghai, is expecting a second child this summer. The recently installed Xbox console has greatly helped her take care of her three-year-old son.
"It is not an easy job to keep an eye on a three-year-old boy who can be running from one place to another all the time. It is not easy for me to take him to preschool education at the moment."
The preschool products developed by New Oriental, which is now installed in the Xbox, is a life-saver. "My boy can sit there patiently for at least 30 minutes, learning new things while playing," she said.
According to market consultancy Gartner, global education sector spending is forecast to grow 2.3 percent to $67.8 billion in 2015. This forecast includes higher education as well as primary and secondary schools.
The China Research Center for Children's Industry predicted that the market volume of the Chinese preschool education market is about 100 billion yuan ($16.1 billion) at the moment and will continue to grow as the country's family planning policy loosens.
"An increasing number of technical innovations and technology trends are emerging from within the industry, but most will emerge outside the industry, driven by major forces such as digital business and the computerization and industrialization of information technology," said Jan-Martin Lowendahl, a Garnter analyst.
According to market consulting firm IDC, Chinese consumers' perception of information technology is changing as their consumption ability improves. They have defined IT as the way to improve their quality of life rather than being just for work and communication.
Therefore, IDC predicts that IT products will become more entertaining in 2015. More Chinese consumers will opt for more entertaining products such as home gaming consoles.