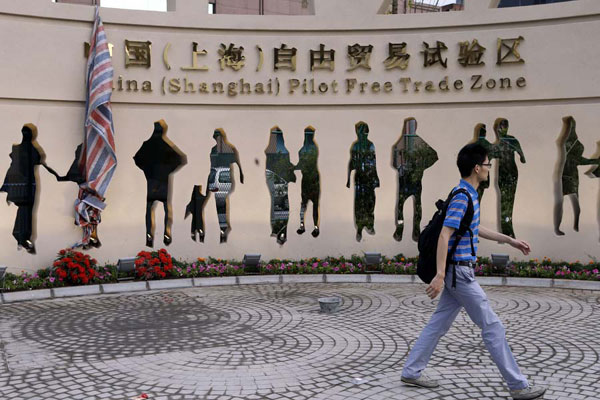 The name plate of the China (Shanghai) Pilot Free Trade Zone on a gate of the Waigaoqiao free trade zone in Shanghai. [Photo provided to China Daily]
BEIJING - Foreign direct investment (FDI) in the Chinese mainland jumped 29.4 percent in January from a year earlier, settling at $13.92 billion, the Ministry of Commerce (MOC) said on Monday.
The pace of growth quickened from a 1.7 percent increase in 2014, as investment in the country's service industry continued to pick up steam.
A total of $9.18 billion, around 66 percent of the FDI, went into China's service sector last month. FDI into the manufacturing sector reached $3.95 billion, accounting for 28.4 percent of the total, said MOC spokesman Shen Danyang.
Related stories:
China's outbound investment set to pass FDI, by english.gov.cn
China's outbound investments will soon outgrow inward foreign direct investment (FDI), said Zhong Shan, China's International Trade Representative and vice-minister of Commerce at the State Council's first weekly briefing on Jan 16.
Nonfinancial outward direct investment reached $102.9 billion, up 14.1 percent from 2013, the first time it topped the $100 billion mark, maintaining China's position as the third-largest global outbound investor, Zhong said.
On current trends, China's outward investment is set to continue to grow faster than its utilization of foreign investment, which will make China a net investor, he added.
In 2014, China's actual use of foreign investment stood at $119.6 billion, an increase of 1.7 percent over the previous year, growing faster than other major economies, including the United States, the European Union, Russia and Brazil. This marked the 23rd consecutive year that China was the leading developing country in attracting foreign investment, according to Zhong.
Investment in developed countries from China also saw rapid growth. China's investment in the US rose by 23.9 percent, and in the EU by 1.7 fold, both much faster than overall outward investment growth, Zhong said.
China spent 64.6 percent of its total investments in the service sector, with investment in the sector up 27.1 percent than that of 2013, while investment in mining dropped by 4.1 percent, representing a declined share of 18.8 percent, based on Zhong's report.
"Going forward, we will focus on implementing the strategy of 'One Belt, One Road' as we further step up outbound investment and encourage the relocation of advantageous industries and excess capacity of countries along 'One Belt, One Road,'" Zhong said.