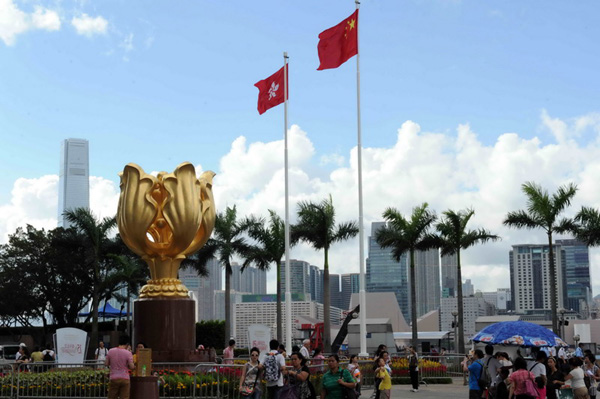 Golden Bauhinia Square, Hong Kong, July 1, 2012. [Asianewsphoto/Wu Jun]
HONG KONG - Invest Hong Kong (InvestHK) Wednesday announced that the governmental department in charge of Foreign Direct Investment (FDI) assisted 355 overseas and the Chinese Mainland companies to set up or expand in Hong Kong in 2014.
The figure represents an all-time high and a year-on-year increase of 5.4 percent, said InvestHK's Director-General of Investment Promotion Simon Galpin, noting that he is delighted to see the increase in completed projects in 2014.
"2014 was another record year for InvestHK in terms of completed projects. Despite ongoing challenges in the global economy, Hong Kong continues to attract overseas and Mainland investors because of its enduring advantages and emerging business opportunities," Galpin said.
The 355 completed projects came from a record 47 economies.
The Chinese mainland continued to lead with a total of 75 projects, followed by the United States with 44, Britain, Japan and France.
For the first time, InvestHK helped companies from Bangladesh, Cyprus, Kuwait, Poland, Romania and Tajikistan to set up in Hong Kong.
In terms of subsectors, the department assisted a growing number of companies in asset management, food and beverage and software solutions to set up or expand in Hong Kong.
As for startups, InvestHK assisted 62 founders and entrepreneurs to start their businesses in Hong Kong in 2014. According to a recent survey by InvestHK, there are 1,065 start- ups operating out of 35 co-work locations in Hong Kong.
Looking Forward, Galpin said InvestHK will continue to reach out to potential clients in priority markets including Mainland and those in Association of Southeast Asian Nations economies.
It will focus on subsectors including financial technology, e-commerce and maritime services.
"We are looking to 2015 with cautious optimism. Notwithstanding global economic uncertainty, we have a strong pipeline of companies and are optimistic that we will be able to meet our annual target of assisting 370 companies in 2015," Galpin said.
InvestHK is the department of the Hong Kong Special Administrative Region government established in 2000 to attract foreign direct investment and support overseas and mainland business to set up or expand in Hong Kong.