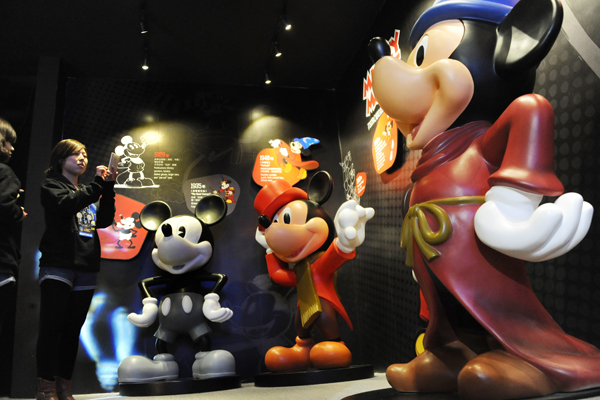 The Disney characters at a company event in Shanghai. The Shanghai International Tourism and Resorts Zone, covering about 24.7 square kilometers, will have the Disneyland theme park as its core as well as other tourism, cultural and retail areas.[Provided to China Daily]
Long-awaited Disney theme park seems to be progressing slowly, reports Shi Jing in Shanghai.
The Shanghai Disney Resort will someday be a place where children and adults can indulge in dreams, but it is not pleasant at all to visit the site at present, especially on a chill winter's day.
At the moment, there is little to be seen on this mostly vacant piece of land spreading over 3.9 square kilometers-and yet security is extremely tight. Even people trying to take a picture across the street where the gate of the resort is located will be stopped by security staff.
The only way to get any rough idea of the progress of construction is to drive round the leveled land. It is hard to visualize how the theme park will look like in less than 12 months. A source familiar with the resort who asked for anonymity said that there might be some difficulty with a 2015 opening.
Shanghai Construction Group Co Ltd, one of the major contractors of the Shanghai Disney Resort, said in early December that the first phase of the theme park would be completed by the end of January 2015. But Disney Resort has told China Daily that no specific completion date has been announced.
In an e-mail sent to China Daily, the company said that the Shanghai Disney Resort's development is being led by a "highly skilled international team of Disney Imagineers", including experts from China and the United States.
"Construction milestones are being reached on a regular basis. The remarkable 'mountain' feature at the resort's Magic Kingdom-style theme park was recently topped-out, and we look forward to celebrating many more milestones in the months ahead," said the e-mail.
"An international team of Disney Imagineers is working hand-in-hand with local contractors to transfer unique Disney techniques, design, rockwork and themed finishing expertise to local artisans to bring the best of Disney to the people of China. We look forward to sharing more details soon," the company said.