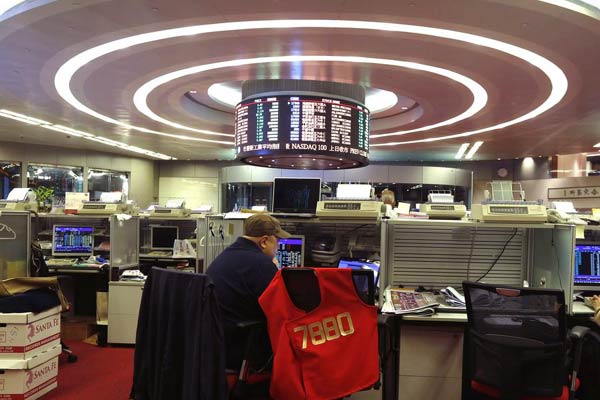 A floor trader monitors share prices during morning trading at the Hong Kong Stock Exchange in Hong Kong Nov 17, 2014. [Photo/Agencies]
Lower valuations, slowing growth in Chinese mainland proving deterrents for overseas companies' float plans, reports Bloomberg.
As Hong Kong wraps up its best year for initial public offerings since 2010, the city's bourse is notching up a less flattering milestone: listings of overseas companies have almost evaporated.
Only one non-Chinese company went public in Hong Kong, the worst annual tally in five years, according to data compiled by Bloomberg. The value of foreign IPOs in the city has fallen every year since 2011, when companies like Prada SpA made up about a fifth of funds raised.
The drop deals a blow to Hong Kong's ambitions to be a global financial center rivaling New York and London, and ties the fortunes of its stock exchange even closer to the Chinese mainland. The market's lower valuations and slowing growth in the mainland have turned away consumer brands and commodity producers that saw a Hong Kong IPO as a gateway to expansion in Asia.
"Our market used to have the momentum, but we seem to have lost it somehow," said Pamela Chung, managing director of Computershare Hong Kong Investor Services Ltd, which has run the share registry for most foreign companies listed in the city. "If we have lost our competitive edge, then we won't even be able to rely on the China market as mainland companies have other choices too."
That was evident when Alibaba Group Holding Ltd, the Chinese e-commerce juggernaut, picked New York for its $25 billion IPO in September, the world's biggest ever.
Initial share sales in Hong Kong have raised $28 billion this year, data compiled by Bloomberg show. The only foreign listing was Malaysian funeral-services provider Nirvana Asia Ltd, which raised $261 million-less than 1 percent of total proceeds-and fell 30 percent on its trading debut this month.
Ronald Arculli, who led a push to lure foreign companies as chairman of Hong Kong Exchanges & Clearing Ltd from 2006 to 2012, said in a phone interview: "If Hong Kong wants to remain international, the exchange clearly has an important role. Something like this, you shouldn't really drop it completely from your schedule."
Listing in the city has become less attractive as Hong Kong stocks lagged behind other markets. The Hang Seng Index increased 2.2 percent over the past two years against a 44 percent jump in the United States and 21 percent gain in Europe. Hong Kong's largest companies trade at 9.8 times earnings, compared with 18.2 times for S&P 500 Index constituents and 21.2 times for members of the STOXX Europe 600 Price Index.
Falling commodity demand in the Chinese mainland has discouraged overseas resources firms, and the city's ban on dual classes of shares kept away companies like soccer-team owner Manchester United Plc, which ended up listing in the US.
Nelson Yan, chief investment officer at Changjiang Securities Co's Hong Kong unit, said "the exchange should continue reaching out to companies around the world" and not rely on just the Chinese mainland.
"Having more international companies will help reduce the systemic risk from our correlation to the Chinese economy."
Foreign companies completed a record $4.1 billion IPOs in 2011, when Prada, luggage maker Samsonite International SA and commodities trader Glencore Plc went public in the city. The following year foreign IPOs fell to $1.1 billion, and then to $571 million last year, Bloomberg data show.
While Hong Kong attracted issuers from Italy, Switzerland and the United States in 2011, most foreign listings since have come from Asian countries like Singapore, Japan and Malaysia.
Nexteer Automotive Group Ltd, the US car-parts maker controlled by China's biggest aerospace company, was the only overseas company from outside Asia to list in the past two years.
By contrast, 11 percent of IPO proceeds in London were from non-British companies this year, while foreign issuers accounted for 39 percent in the US.
The bourse will "never give up" seeking to attract foreign companies but is focused on improving the Stock Connect program, Hong Kong Exchanges Chief Executive Officer Charles Li said in early December. The link, started last month, allows a net 23.5 billion yuan ($3.8 billion) of daily cross-border purchases between Shanghai and Hong Kong.
Drawing more mainland investors into the Hong Kong market will then attract more international companies, Li said on the sidelines of a conference in Singapore.
Changjiang's Yan said: "Most of the big, quality firms from the mainland have already gone public and it's becoming easier to sell shares in the country's domestic market. Hong Kong may see its IPO market shrinking if it stops looking for foreign listings."