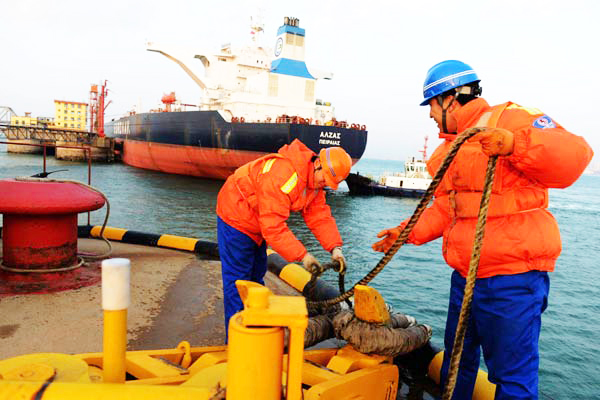 A foreign oil tanker docks in Qingdao, Shandong province. Authorities should be encouraged to introduce a market mechanism to strictly supervise any overseas acquisitions by China's oil companies now, experts said. [YU FANGPING/FOR CHINA DAILY]
Chinese oil companies are being warned to be wary of asset quality before making any overseas acquisitions.
Han Xiaoping, chief information officer at the China Energy Net Consulting Co, said on Tuesday that after six months of oil price falls it has become a good time to buy assets with bargains available around the world.
As a neighbor and huge buyer of Russia's natural gas and crude resources, he said China should study Russian opportunities, particularly, as well as those in Central Asia.
"Russia is likely to be on top of the list for Chinese companies looking for investment opportunities in the energy sector," he said, assuring buyers that the Russian economy was unlikely to collapse even given its current problems.
Han pointed out, however, that no matter how tempting a deal might look, it is crucial that Chinese companies-especially State-owned energy giants-strictly adhere to market rules and insist on total transparency on any possible overseas acquisitions to avoid what he called unexpected results.
Han's comments came as Reuters reported that a subsidiary of the country's biggest oil and gas developer China National Petroleum Corp, Petro China Daqing Oilfield, has just paid $85 million to produce oil from three blocks in the ageing Limau field, under a contract signed last year with Indonesia's state-owned oil company, Pertamina.
A senior Chinese oil industry official, however, who has seen official budget figures for the Limau wells, is quoted in the report as calling the investment "ridiculous" based on its output projections.
The report said that as a result, CNPC is now probing two other oil deals in Indonesia.
Brent crude steadied around $60 a barrel, Reuters said on Tuesday, still under pressure from a global supply glut. The benchmark crude has almost halved in price over the last six months and reached a five-and-a-half-year low of $58.50 last week. It has struggled since then to move far above $60.
Given the current market conditions, Han said the authorities should be encouraged to introduce a market mechanism to strictly supervise any overseas acquisitions by the country's oil companies.
"When a company becomes a tool for corruption in an overseas market, acquisitions are not just financial decisions any more," he said.
A CNPC official, who declined to be named, confirmed its investments in Indonesia with China Daily and said the projects all complied with regulations.
Li Yan, an oil analyst with domestic consultancy Shandong Longzhong Information Technology Co, said he did not consider Indonesia as offering attractive oil and gas assets.
"The political situation in Indonesia is not beneficial for Chinese investors, either," he said.
According to a report by the CNPC Economics and Technology Research Institute, the Indonesian government has been asking foreign investors to take greater responsibility with its assets by raising the percentage of supplies earmarked for local use from wells controlled by foreign companies.
Last year, Indonesia opened bidding on 18 of its oil and gas blocks, far fewer than the planned 46 blocks at the beginning of the year.
"Those 18 blocks are mostly in remote areas or in deep water, which requires huge capital investment at high risk," said the report.
"The tough conditions bring many difficulties in exploration and development."