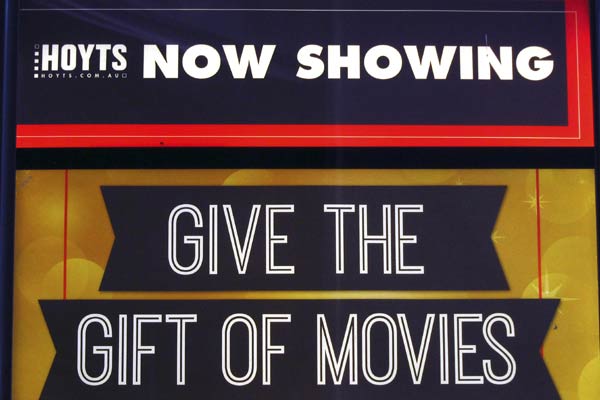 A promotional poster adorns the wall of a Hoyts cinema complex located in the suburb of Chatswood, north of Sydney December 23, 2014.[Photo/Agencies]
Hoyts Group, Australia's second-largest cinema operator, said on Tuesday it has been sold to a Chinese billionaire with strong ties to the diversified conglomerate Dalian Wanda Group.
Hoyts, previously owned by Australian private equity firm Pacific Equity Partners, said that Sun Xishuang, ranked No 149 on Forbes magazine's China rich list, bought the group through his British Virgin Islands-based company, ID Leisure Ventures.
Financial terms of the sale were not disclosed but Australian media estimate the deal to be worth up to A$900 million ($731 million).
Sun is chairman of real estate company Dalian Yifang Group and, as of October, was worth an estimated $1.3 billion.
At the same time, the entrepreneur is also the second-largest shareholder in Dalian Wanda Group with a 6.3 percent stake as well as a 4.2 percent interest in its subsidiary, Wanda Cinemas.
The announcement of the deal put to rest months of speculation that PEP was to offload the group. Last month, a private deal was mooted to be imminent after PEP halted plans to float Hoyts on the Australian Stock Exchange, which had been ongoing throughout 2014.
In addition to owning and operating 43 cinemas with more than 400 screens across Australia and New Zealand, Hoyts Group also owns a movie rental business, Hoyts Kiosk, and Australia's largest digital screen advertising company, Val Morgan.
Damian Keogh, chief executive of Hoyts, said that innovation and expansion will continue to be the group's focus.
"We look forward to the investment and development of Hoyts going forward under the ownership of a new investor, ID Leisure," Keogh said.
Sydney-based PEP acquired Hoyts Group in December 2007 from West Australian Newspapers Ltd and Publishing and Broadcasting Ltd in a deal reportedly worth A$440 million.
With such close ties between Sun and Dalian Wanda Group, links are likely to be drawn between this deal and the global ambitions of Dalian Wanda, which made headlines in May 2012 with its $2.6 acquisition of United States-based cinema operator AMC Theaters.
Yang Shuting, a consultant at Horizon Research Consultancy Group, said given the relationships involved, there is probably some tentative link.
"However, given that Sun is only a (small) shareholder of Wanda Cinemas, and the acquisition was made through his own investment company, I think it is implausible to draw definite links to Wanda Cinema," said Yang.
"Australasia is not a particularly important cinema market and Hoyts, with only 43 cinemas in the region, shouldn't be considered a large scale player," he said.
Huang Ying contributed to this story.