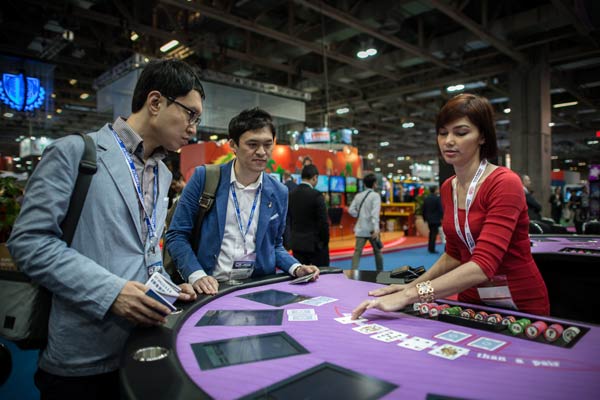 Visitors are given a demonstration at a booth of the Global Gaming Expo Asia in the world's biggest gambling hub of Macao, May 20, 2014. [Photo/Agencies]
For five years, Hong Kong investors could not go wrong on casinos. Now they are losing more than on any other stocks, and money managers from ABN Amro Private Banking to Macquarie Funds Group do not see the slump ending soon.
Gambling operators accounted for the five biggest declines on the MSCI Hong Kong Index this year, with the market value of companies in the industry dropping $75 billion this year through last week, according to data compiled by Bloomberg. Sands China Ltd plunged 39 percent, wiping out $26 billion in value, as China's efforts to curb corruption spurred the first declines in Macao's gaming revenue since the global financial crisis.
With China facing the slowest economic expansion since 1990 and the government clamping down on extravagant spending, high-rollers are wagering less in the only place in the country where gambling is legal. Nomura Holdings Inc sees no end to the slide in Macao's gambling receipts, forecasting at least a 3 percent drop next year. Two-thirds of visitors to the world's biggest gaming hub come from the Chinese mainland.
"We're still avoiding Macao casino stocks," Daphne Roth, the Singapore-based head of Asian equity research at ABN Amro Private Banking, which oversees about $230 billion, said by phone. "They've been hit by China's anti-corruption drive. Even with the recent declines, valuations are hard to justify as we don't see an immediate improvement in gaming revenues."
Galaxy Entertainment Group Ltd rallied more than 6,400 percent to lead gains on the MSCI Hong Kong Index in the five years through 2013, according to data compiled by Bloomberg. The stock traded at 15.6 times estimated earnings on Monday after tumbling 39 percent this year, with its valuation peaking at 48 times in January 2010. Wynn Macau Ltd has a multiple of 15.7 times and Sands China at 14.8 times, compared with 15 times for the MSCI Hong Kong Index.
Casino revenue in Macao dropped 20 percent to 24.3 billion patacas ($3 billion) in November from a year earlier to cap a six-month decline, the gaming bureau said this month. Revenue may fall 0.6 percent this year, according to analysts surveyed by Bloomberg, after jumping 19 percent to $45.2 billion in 2013. Sands China fell 2.6 percent on Monday in Hong Kong, leading losses on the Hang Seng Index. Galaxy slid 2.2 percent.
The Macao government has tightened visa rules for Chinese mainland visitors and cracked down on the use of UnionPay debit cards to bypass mainland currency controls.
High-stakes gamers are being lured away from Macao as casinos from Las Vegas to the Philippines and Australia offer perks including private jets. VIP players of baccarat, a card game favored by Chinese gamblers, accounted for 60 percent of Macao's gambling receipts this year through September, compared with 66 percent for all of last year.
In the 12 months through October, a measure of baccarat revenue gained 8 percent in Las Vegas compared with a 1 percent rise for all other games, according to Bloomberg Intelligence.
The Asian city faces a labor squeeze ahead of the opening of new resorts that will require at least 50,000 workers, Bloomberg Intelligence said. Gaming house employees organized their biggest protest this year to demand better pay and conditions.
Macao is hoping more small fish can help make up for fewer whales. Mass-market customers tend to provide wider margins than high-rollers, who usually rely on credit from junket operators, while their counterparts bet in cash.
Mass market baccarat revenue rose to 31 percent of total gaming receipts this year through November, compared with 25 percent for all of 2013, according to gaming bureau data.
Galaxy, Sands China and Melco Crown Entertainment Ltd plan to open integrated resorts next year that will have a combined 6,000 rooms. Melco Crown fell 40 percent this year.
"These new casinos will provide additional hotel rooms to accommodate more mass market players," Angela Lee, an analyst at China Merchants Securities Co in Hong Kong, said by phone on Dec 8. "This will be the major driver for the sector next year."
Analysts have been trimming casino price targets, with the average 12-month projection for SJM dropping about 40 percent from a year earlier. Gross gaming revenue is expected to fall to an average of 27.5 billion patacas a month in 2015 from this year's forecast of 30 billion patacas a month, Macao Chief Executive Fernando Chui said on Dec 7.
Sam Le Cornu, senior portfolio manager at Macquarie Funds, said: "Picking the right timing to pick the Macao stocks is difficult. We're still underweight on Macao casinos as a whole. We're readying ourselves for a very good buying opportunity."