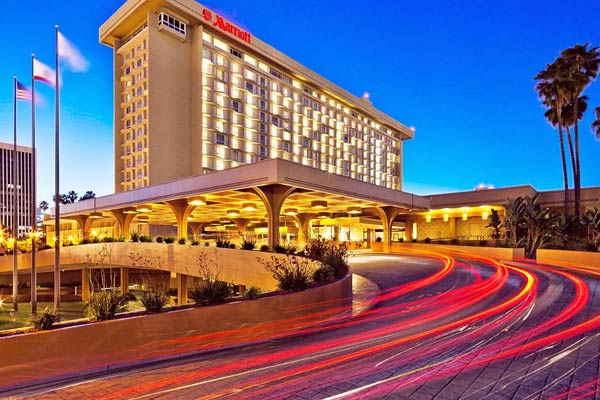 Exterior view of Los Angeles Airport Marriott. [Photo/marriott.com]
XLD Group, the US subsidiary of Chinese property investment firm Sichuan Xinglida Group, has bought the 1,004-room Los Angeles Airport Marriott for $160 million-its second hotel acquisition in California after spending $74 million on the 487-room, 17-story Marriott in the nearby city of Torrance last year.
Eddy Chao, president of Asia Pacific Capital, which represented XLD, said it expects to see a yield of more than 8 percent on its investment over the next several years.
"More than 90 percent of the Airport Marriott's rooms are occupied on an average night," said Chao, adding the company plans about $35 million worth of improvements over the next two years, including the creation of an executive floor and more suite-style rooms.
The seller was Maryland-based DiamondRock Hospitality Co, a real estate investment trust that owns 27 hotels, whose President Mark W. Brugger said: "The sale achieves the company's goal of strategically recycling capital from non-core assets into high-growth, high-quality assets. This transaction improves the overall quality of our portfolio and increases our brand diversity."
The purchase of one of LA's largest hotels is the latest in a series of recent hotel deals completed by Chinese buers.
In late 2013, Chinese real estate developer Hazens Investment completed the acquisition of the Sheraton Gateway Hotel in Los Angeles for $96 million.
In July this year, real estate giant Dalian Wanda Group announced it would invest $900 million in a riverfront residential and hotel tower in Chicago. And in October, China's Anbang Insurance Group acquired the famous Waldorf Astoria hotel in New York from Hilton Worldwide Holdings for $1.95 billion, making it the biggest Chinese property purchase in the US.
"Chinese developers have started to invest in the US hospitality industry because the domestic real estate market has cooled down, and travel activities remain strong in the US market," Chao said.
Between January and September this year, there have been 56.4 million non-resident travelers to the US, and the US Commerce Department projects annual growth of 4 percent in international travel.
China is preparing to send millions of leisure travelers and enterpreneurs into the international tourism market with the new 10-year visa agreement between China and the US, Chao said.
However, not all business insiders are as optimistic about investing in US hotel properties.
"The price looks too high right now to purchase a hotel in the US," said Li Zhenzhen, a commercial real estate developer in the San Francisco area.
She said that some Indian investors who bought hotels several years before in the US have already been selling. However, Li said Chinese investors who have strong interest in buying hotels not only anticipate seeing returns from the growth of the hotel properties' own value, but also the immediate cash flow from operations.