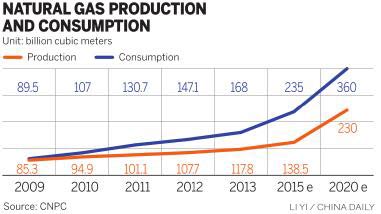 China is to increase its natural gas imports to cope with rising winter demand, the country's largest oil and gas company said on Monday.
China National Petroleum Corp, which accounts for 75 percent of national gas output, said it will deliver 60.7 billion cubic meters of natural gas from November through to March 2015, a 9 percent rise compared with the same period last year as the country's energy use peaks.
Officials said the supply system has a shortfall of 2 billion cu m for the coming winter with total demand expected to hit 88.2 billion cu m.
The world's biggest energy user is raising the percentage of clean fuel being used to reduce emissions.
Qu Guangxue, a CNPC representative, said the company's pipeline gas and liquified natural gas imports will both increase by 10 percent this year with total gas imports of more than 20.8 billion cu m during 2014.
"Natural gas supply will be tight for quite a while, and energy companies should be ready for this situation," he said.
According to company figures, China's natural gas use has seen an average yearly increase of 15.6 percent since 2009, when annual demand was just 89.5 billion cu m. Last year, the country consumed 168 billion cu m of natural gas.
Its supply shortfall has grown from some 4 billion cu m in 2009 to 50 billion cu m in 2013, when 30 percent of supplies were imported.
CNPC estimates that China will produce 138.5 billion cu m of natural gas next year while consumption will rise to 230 billion cu m. By 2020, it expects output to have reached 235 billion cu m, with demand of around 360 billion cu m.
He Jiangchuan, deputy general manager of CNPC's exploration and production subsidiary, said the company will accelerate key natural gas projects to increase output.
"China should speed up the building of gas storage capacities to ensure supply," he said.
China currently has 17 gas storage facilities with total capacity of 4.2 billion cu m, which accounts for just 2.3 percent of the nation's total gas consumption, according to CNPC.
International industry standards, however, require that countries should have enough storage for 12 to 15 percent of consumption.
Because of the huge capital expenditure required, He said the building of further storage capacity will require joint government, corporate and private investment.
Sinopec Group, the country's second-largest gas producer, announced on Monday it plans to increase its natural gas supplies by 11 percent year-on-year to 8.4 billion cu m for domestic users from November through March.
Sinopec opened its first terminal to receive LNG imports in Qingdao, in Shandong province, earlier this month.
Lyu Dapeng, a spokesman for Sinopec, said the company will increase LNG imports to ensure domestic supply. It currently has four LNG receiving terminals under construction.