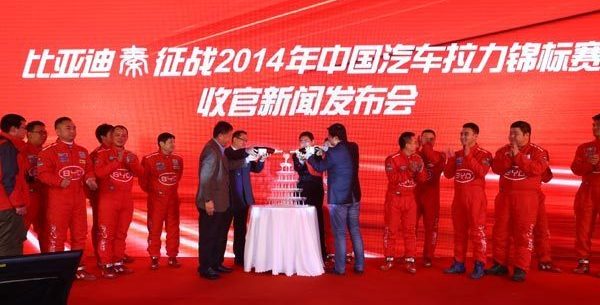 Executives of BYD Auto Sales Co and BYD Dream Auto Racing Club members celebrate the completion of the 2014 China Rally Championship, Dec 18, 2014. [Photo provided to chinadaily.com.cn] 
Chinese carmaker BYD started recuiting participants for the 2015 China Rally Championship and announced hundreds of thousands of yuan in prize money for the BYD racers, and more for those who secure the top three positions on the entire driver standings.
BYD Auto Sales Co Deputy General Manager Gao Zikai announced Thursday that the current BYD racing team will keep operating and take part in future competitions.
Calling for new members to join the race, he promised support with techniques and componets and said that all the BYD participants will be awarded 2,000 yuan for each point they win in the 2015 CRC.
The first racer completing the race will win 10 points, and the second to the eighth racers will win eight, six, five, four, three, two, and one points respectively. Each racer's points are set to be calulated by the end of the entire championship.
China's Federation of Automobile Sports' Deputy President Chen Xuezhong said the BYD team won the 15th rank in 2014 CRC with its 1.7-ton BYD Qin plug-in hybrid racing car, and the team's performance brought the confidence in the SAE sections.
CRC for the first time started the SAE section for new energy race cars from this year, and BYD Dream Auto Racing Club set up the world's firs hybrid car racing team.
Hou Yan, general manager of BYD Auto Sales Co, also extended his appreciation to all the people who supported the BYD Dream Auto Racing Club.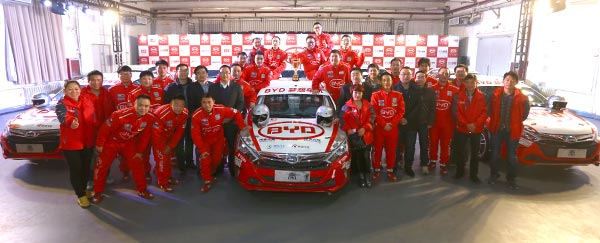 Executives of BYD Auto Sales Co and BYD Dream Auto Racing Club members pose around the BYD Qin plug-in hybrid racing car, Dec 18, 2014. [Photo provided to chinadaily.com.cn]