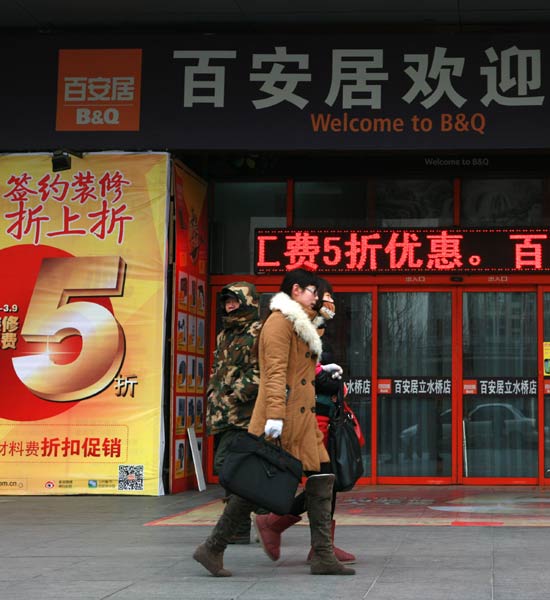 Pedestrians walk past a B&Q store near Tiantongyuan, a residential community in Beijing.[Provided to China Daily]
Kingfisher, the United Kingdom-based home improvements retailer, said on Monday that it had agreed to sell a 70 percent stake in its loss-making B&Q China business to Wumei Holdings Inc for 140 million pounds ($219 million), a move that is expected to boost Wumei's retail presence.
The agreement follows Kingfisher's announcement in March of its plans to look for a strategic partner to help develop its B&Q business in China, which is made up of 39 stores and employs 3,000.
"I am delighted to have found a strong retail partner who will help us realize the financial value of our business in China," said Véronique Laury, chief executive of Kingfisher. The transaction will enable Kingfisher to focus on its main businesses in Europe, including the UK market leader B&Q and Castorama in France, said Laury.
Kingfisher, which has B&Q and Screwfix in the UK and Castorama and Brico Depot in France, is Europe's biggest home improvement retailer.
Beijing-based Wumei, the leading retail chain store operator, has a retail network of about 650 supermarkets under the brand of Wumart and 10 department stores in northern, eastern and western China.
The deal is subject to approval by the Ministry of Commerce, and if approved, is likely to be completed during the first half of next year.
Jason Yu, general manager of Kantar Worldpanel China, a global consumer information provider, said the bold step will help Wumart move into the highly fragmented and competitive home improvement sector. "But Wumart will have to learn how to survive in the challenging home improvement sector," he said.
Wumart had a 6.7 percent value share in the North China region's grocery retailing sector, Kantar Worldpanel said, adding that the year-on-year growth trend was more or less flat, despite it being the top retailer in the region.
As one of the key local players in the China grocery sector, Wumart has faced several challenges, including cutthroat competition from the e-commerce sector.
Yu said such deals are common in the retail sector. "B&Q may be able to leverage on the local market expertise of Wumart," he said. "The combined group will have larger scale as well as a stronger eco-system, a shopping center with both Wumart hypermarket as well as B&Q store, and better negotiation power and property portfolio. It will also allow Wumart to expand their business in regions where they do not currently have a presence."
In 2012, Home Depot Inc, the largest home-improvement retailer in the United States, closed its remaining seven big box stores in China after it decided to shift its focus to specialty and online outlets in China.
Yu said Western home improvement retailers rely very much on the do-it-yourself concept-consumers buy the raw material and do the home improvement at home. However this does not work well in China as consumers typically rely on home improvement specialists to do the work.
Though B&Q and some other Western retailers started to offer these kind of services at their stores, it was not as competitive as other players. Most of the Western retailers had fewer stores and relatively weaker negotiation power with suppliers. As a result, they are also not able to offer advantageous prices, Yu said.
He said the recent cooling down of the real-estate market has led to weaker demand for home improvement-related work. Within the home improvement sector, the only successful example is Sweden's Ikea that really wins based on the unique customer experiences it creates, he said.