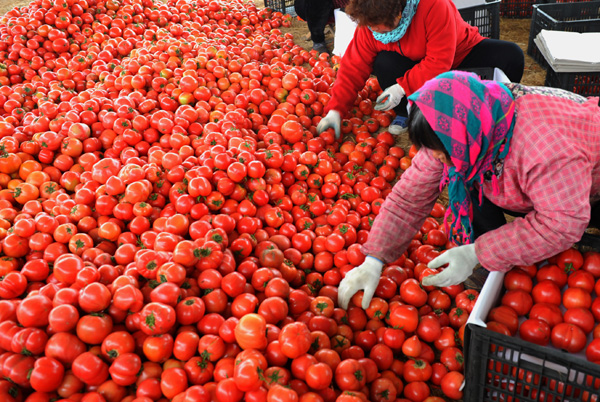 Growers in Lianyungang, Jiangsu province, sort tomatoes that will be transported to Russia. [Photo provided to China Daily]
Food producers from Liaozhong county in Liaoning province have reported a steep rise in orders from Russia as a result of the yearlong ban on Western goods announced in August by Moscow.
Russia has imposed the one-year embargo on meat, fish, dairy, fruit and vegetables from the EU, US, Canada, Australia and Norway in retaliation for Western sanctions over Russia's role in the Ukraine crisis.
According to the latest figures released by Liaozhong county's foreign trade and economic cooperation bureau, 30,000 metric tons of its locally grown pink Hanfu apples, for instance, worth 800 million yuan ($131 million) were included in total food orders worth 2.2 billion yuan from Russian importers in the last month.
Also on the Russian shopping list were 1.16 billion yuan worth of rice and 128.4 million yuan worth of vegetables.
Zhang Guoying, the bureau's director, said that Liaozhong fruit and vegetable producers are now applying for a much larger supply contract with the province's foreign trade office.
"Russia's political tensions with the EU and US are a very good opportunity for us," said Zhang, "and we are seizing the opportunity to develop trade for our agricultural products."
Zhang said the proximity of the two markets, efficient transportation and the sheer size of the Russian market mean a bright future for Liaozhong goods.
Visiting a Hanfu apple farm owned by Shenyang Weiyun Fruit Co Ltd in Liaozhong on Tuesday, Sergey Paltov, consul general of the Russian Consulate in Shenyang, said that the two governments are looking at ways of further improving transport links.
He said that Jilin province, too, and Russia "will soon start cooperation over a project to build a logistics center and shopping mall in the border town of Hunchun, which will help reduce costs of exporting to Russia".
The far east of Russia has long relied on Chinese agricultural imports. But since announcing its decision on Aug 7, Moscow has been working hard to find alternative suppliers for its populous western cities, too.
Meng Xianwei, chief executive of Shenyang Weiyun Fruit, said it had quickly introduced measures to support additional exports to western Russia.
"We have held negotiations with a subsidiary of China Railway Engineering Corp, which offers transportation in refrigerated units, and it has granted us a 20 percent discount with a further cut if we transport to Moscow," said Meng.