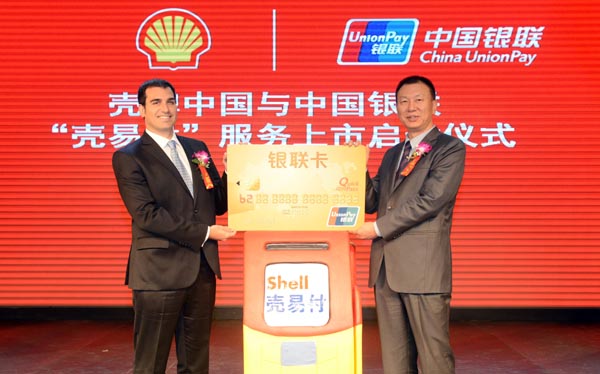 Perez Olgiati Sebastian, vice-chairman of Beijing Shell Petroleum Company Board (left) unveils the joint payment service with Liu Fengjun, senior vice-president of China UnionPay in Beijing, on Oct 16. [Photo provided to China Daily]
Royal Dutch Shell Plc has teamed up with payment solutions provider China UnionPay for a new payment facility at its retail stations in Beijing, as part of the energy giant's efforts to expand its network in China.
The new payment service, called Shell EasyPay, enables customers to complete the entire payment and invoice process without having to leave their cars.
Not surprisingly, Shell's efforts come close on the heels of China's largest refueling service provider Sinopec Group's reform to spruce up its gas stations with multi-functions like car maintenance, shopping and fast food restaurants.
"Shell is committed to the China market. The new service is based on our research into the consumption habits of Chinese consumers and the needs they have while refueling cars," said Perez Olgiati Sebastian, vice-chairman of Beijing Shell Petroleum Company Board and venture manager of Shell China.
Shell currently operates more than 1,100 service stations around China.
Most gas stations in the country are still dominated by the State-owned oil companies including Sinopec Ltd and PetroChina Co Ltd. Sinopec owns more than 30,000 stations.
Shell's new facility will allow customers to complete the entire invoicing process within 125 seconds, said Liu Fengjun, senior vice-president of China UnionPay.
"It seems a simple step. But it took lots of effort in technology and innovation."
People are not allowed to make phone calls at gas station to avoid explosion and it equally applies to hand-held mobile payment machines, according to Liu.
"We needed to integrate Shell's refueling system, UnionPay's payment system and invoice printing all together into the specially designed mobile payment machines for Shell EasyPay. More importantly, the machines needed to be explosion-proof."
The cost of the new mobile payment machines is several times more than a regular one, Liu said.
"We will continue to develop more innovative payment solutions with Shell, and even promote it in overseas markets where UnionPay is accepted," said Liu.
"Meanwhile, we are in discussions with major Chinese energy companies such as Sinopec and PetroChina for payment solutions at their gas stations."
Customers can pay their water and electricity bills, and buy movie tickets through UnionPay terminals equipped in Shell's convenience stores besides gas stations. In future, China UnionPay will provide solutions for customers to pay for taxi, subway and buses via their cards.