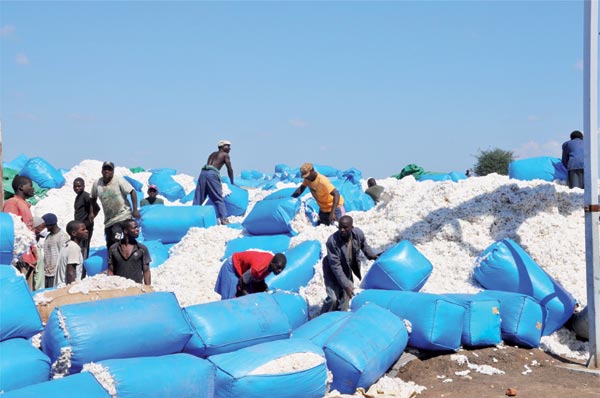 Employees of China-Africa Cotton Development Ltd at a goods yard in Mozambique. [Photo/China Daily]
Agricultural company makes big splash with unique business model
The days of foreigners managing vast plantations, highlighted in movies such as Out of Africa, have long gone.
Today, most international agricultural companies have left the planting to local farmers, and focus instead on
buying the
harvest
, and China's largest agricultural company in Africa is now making significant inroads into the market.
China-Africa Cotton Development Ltd is a joint-venture between Qingdao Ruichang Cotton Industrial Co, China-Africa Development Fund and Qingdao Fuhui Textile Co.
Established in its current form in 2008, the company dates back to the 1970s, when Chinese workers built Tazara Railway. Few people knew that two textile companies were gifted to Zambia as well, one built by Qingdao Ruichang.
By the end of last year, China-Africa Cotton had grown a presence in Malawi, Mali, Mauritius, Mozambique, Tanzania, Zambia and Zimbabwe, and its main stakeholder, China-Africa Development Fund, had invested $60 million in its operations.
Its assets had grown to $128 million in 2013 from $22 million in 2008, and its profits had hit $6.5 million.
It is now the second-largest cotton processing company in Zimbabwe, after the local State-owned company.
Wang Chuanyuan, its general manager, says Africa has become a key global cotton growing and processing market.
"In Zambia, for instance, more than 70 percent of people are involved in agriculture and the country has more than 43 million hectares of arable land.
"The land is fertile and the sunshine aplenty - this is natural cotton-growing land."
Wang says that while it costs 10 yuan ($1.60) to buy 1 kilogram of cotton in China, it costs just 2-3 yuan in Africa.