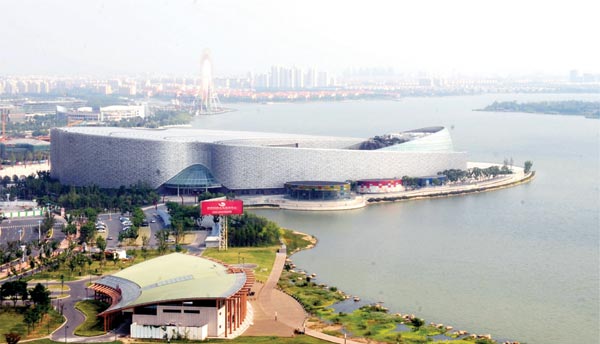 Suzhou has focused on building a city that can be enjoyed on foot with parks and community retail clusters within walking distance of most residential areas. Such careful planning impressed the judges of the Lee Kuan Yew World City Prize. [Photo/Xinhua]
Chinese livable city turns challenges into great winning opportunities
When the Chinese seaside city of Qingdao built a new commercial business district a decade ago, it rejigged the city. The trouble was that the new Central Business District competed with the old one and, for a time, empty offices and living spaces was the norm.
Beijing went through a similar process about a decade earlier and has continued to expand and grow, always outward. A city that was once encircled by four ring roads now has six, with a seventh under construction.
These cities came up with ideas for new areas, found land and went ahead with building. Planning was, if anything, an afterthought. And what planning was done was short term, a few years at most.
Suzhou did not have the luxury of much extra land, but it did have foresight. And it managed to turn this foresight into a vision that won the Lee Kuan Yew World City Prize for 2014 earlier this month. The biennial prize, established by the Singapore government, "honors outstanding achievements and contributions that lead to the creation of livable, vibrant and sustainable urban communities around the world".
"Successful cities require cooperation and collaboration among the public, private and people sectors," says Kishore Mahbubani, in a note as chairman of the nominating committee.
Mahbubani is a professor at the Lee Kuan Yew School of Public Policy, part of the National University of Singapore. He pointed out that the most successful cities have "a clear vision and an overall strategy to transform themselves at a city-wide level".
"At a strategic level, good governance and able leadership play a vital role in the city's development," he says.
Careful planning is often missing in Asia, where cities are huge and crowded and have had to deal with constraints created by rapid urbanization and fast-growing economies. And some kind of long-term vision is key for a large group of impressive buildings to come together into a cohesive and ultimately livable city.
The previous winner of the prize, in 2012, was New York City, which was recognized for its transformation since the tragic events of 2001 and a development plan that will take it to 2030.
Vancouver, often touted as one of the most livable cities in the world, won a special mention in 2012 as "an exemplary demonstration of strong visioning, community values and long-term planning".